Would you pay to spend the night in a haunted house? You can once you know about some of the Airbnbs with a little boo! There are several well-known haunted Airbnb rentals out there that allow you to book stays in portals to the other side. Of course, these rentals are only for the boldest and most daring of travelers. Take a look at haunted Airbnb rentals that won't promise sweet dreams.
6. The Stroud House
Where: Wake Forest, North Carolina
Be prepared for no sleep in Wake Forest if you check in for the night at this haunted Airbnb. Don't be fooled by the bright, perky demeanour of this property! The Stroud House is a place to get schooled in paranormal activity right in the middle of a former college town.
This home was built in the 1940s by Rev I.T. Stroud. It still features a pastor's study that has been converted into a convenience area with fridge, microwave and coffee maker. The home also has floor-to-ceiling shiplap, classic fixtures and vibrant wood floors.
In the listing, the property owner warns future guests that the home does feature smaller bathrooms due to this being an older estate. Another thing this property has in common with many older estates is that it's haunted. Family, friends and guests staying at the home have documented a variety of supernatural events while slumbering. The list includes footsteps roaming through the hallway, the sound of someone tiptoeing upstairs, glowing orbs, hall and basement lights suddenly turning on and a music box that inexplicably plays on its own. A shadowy figure has also been spotted lingering in the kitchen! If you spook easily, just keep on walking right past the Stroud House the next time you're hanging around downtown Wake Forest before you awaken any activity!
5. The Madness Chamber
Where: York, North Yorkshire, United Kingdom
The man that you might see lurking about inside The Chamber won't be a bellhop or concierge. The raven-hair man has long tresses hidden under a cap. He has been known to suddenly appear over the shoulders of guests. He is a ghost at this haunted Airbnb. The temperature in this inviting apartment is also known to drop. It will send a shiver down your spine whenever he shows up. Just hope you don't see him as you're relaxing in the flat's grand claw-foot tub. It's illuminated by the light of a flickering, five-light chandelier that can be found in the bedroom suite.
The history behind this very old flat is fascinating. The Chamber apartment is more than 600 years old! It can be hard to tell exactly which spirits are lingering in a city that has been the site of so much bloodshed dating back to Roman times.
However, there is a theory on the flat that went on to become known as North Yorkshire's Madness Chamber. It's that a wicked schoolmaster went mad from guilt after a career of rounding up the city's orphans to place them in a local institution called the Ragged School. This schoolmaster with a heart of black eventually turned to heavy drinking to turn off the memories of all the children he had condemned to asylum living. His guilt drove him mad until even the strongest of libations could no longer silence sounds and visions of screaming orphans scratching from their graves. The headmaster eventually took his life in what is believed to be the spot where this flat stands today.
4. The Manor Master Chamber
Where: Saint Paul, Minnesota
The front façade of the Manor Master Chamber is pretty much the picture you'd see if you looked up "haunted house" in the dictionary. This is a mysterious, quirky home full of Victorian wallpaper, spiralling staircases and strange nooks. The owner of this rare haunted Airbnb has some confirmation regarding the spooky happenings taking place.
Sean Doyle, the current owner of the manor, couldn't have known the significance when he randomly picked up an old barrette from the floor inside his home more than a decade ago. He said that when he touched the barrette, a vivid image of a little girl dressed all in white flashed in his head. He thought it odd but let the feeling pass.
The incident came rushing back to him a year later when he received the strangest call. It was the relatives of the family who had built this manner all the way back in 1883 calling to make contact. Doyle felt compelled to ask if a girl had ever died in the home. To his surprise, the family was able to confirm that a young girl named Rosalia Fihn had passed away from typhoid fever in the home back in 1908. The former owners even showed a photo of the girl to Sean. He immediately recognised her from the strange memory flash he had had prior.
Doyle remains a skeptic even though this strange incident has him wondering if little Rosalia still keeps an eye on the home of her childhood. What is most fascinating is that several friends and guests who were unaware of the Rosalia story have commented on feeling an energy or presence in the home. In fact, there is one particular closet in the home that appears to be a hotspot for "sensations" among guests. It does make one wonder if the closet is the perfect hide-and-seek spot for little Rosalia!
3. The Haunted Bedroom in the Parks-Bowman Mansion
Where: Garden District, New Orleans
It takes a lot to be considered one of the best haunted houses in one of the most haunted cities in the country. New Orleans is notoriously a city of spirits. However, the property known as the Haunted Bedroom was recently named one of Buzzfeed's Top Ten Haunted Airbnb Locations.
This is a third-floor flat tucked away in the heart of the Garden District. Guests enjoy a queen-sized bed, private bathroom and gorgeous balcony that looks out over the Big Easy. Touches like stained glass, grand chandeliers and massive oak trees that obscure parts of the property add to the moodiness of the estate. However, the dramatic look of this property gives way to a mostly uneventful style of haunting.
It turns out that the ghost of the Haunted Bedroom in the Garden District of New Orleans is quite shy. However, those who do encounter her see a young girl in a beautiful yellow dress from the 1890s. Yes, coming for the ghost is reason enough to check in. However, this property is worth a stay even if haunted happenings don't happen simply because of how decadently ornate and charming it is. If the ghost doesn't grab your attention, the property's lovely inset pool, ornate main parlor and relaxing private patio will!
2. Castello Dal Pozzo
Where: Piedmont, Italy
Perched on Lake Maggiore, Castello Dal Pozza boasts a fitness center, wine bar conference center, private art collections and luxurious suites. The sprawling halls of this ancient castle are said to be haunted by a woman named Barbara who is known as Piedmont's "lady in waiting".
The daughter of Lord Pozzo, Barbara supposedly decided to run away to elope with a man who was not an approved suitor. Upon discovering the forbidden marriage, Pozzo had beautiful, young Barbara locked away in a tower within the castle. It was there that Barbara eventually died without ever being reunited with her husband.
Guests who stay in the castle report hearing someone shuffling through its gilded, echoing halls each night. Many report disruptive sighs and laments coming from the castle's tower. There have even been sightings of a figure overlooking the surrounding lake from the windows of the castle. Could it be Barbara waiting in vain for her husband to return to scale the castle walls to free her from her tower?
1. The Weld Street Inn (Marsh-Edwards House)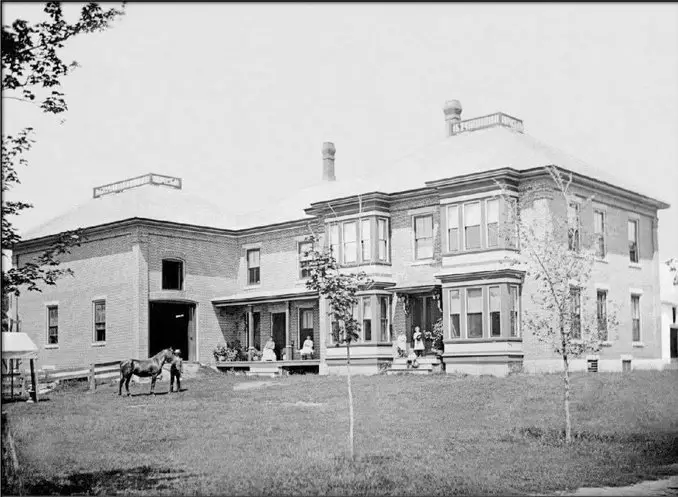 Where: Dixfield, Maine
The Weld Street Inn is a picture of quaintness with a classic New England porch with white rails, oversized front windows, multiple brick chimneys and a canopy of trees.
Built in 1881, it's considered to be one the cutest attractions in the tiny town of Dixfield. It turns out it's notoriously haunted. Any local will tell you that sightings have been going on for years. All of this was actually a surprise to the inn's current owner. However, Ann Marie Cook knew something was "up" when she opened the door of her new property to hear a bizarre "whoosh" sound flying right towards her. The locals soon informed her that she had purchased a very haunted house.
There are many theories about the fates that befell the Marsh family, who once occupied the home. First, there was a daughter named Chestina who was a certified "black widow". She had lost two husbands in a short span of time. Several of the Marsh's five daughters were said to have birthed children out of wedlock. They were hidden away in a secret room within the barn on the property. One child supposedly died after being mysteriously pushed from the barn window. Another supposedly drowned in a pond on the property that has since been covered.
Many of Ann Marie Cook's theories about what took place have been pieced together by conversations she's had with locals. Of course, the biggest proof of all that something unsavory has happened at the inn is all of the activity that guests continually report. Guests of this haunted Airbnb constantly hear noises. They see objects moving and feel the "presence" of someone hovering near them.
Could the Marsh family be still lingering on the property all these years later? We dare you to stay there and find out.