It started as a wholesome online marketplace but Craigslist quickly earned itself a reputation as the internet's seedy underbelly. Its anonymous nature makes it the perfect breeding ground for killers and deviants, so it's a good idea to exercise caution when using it. Without further adieu, here are the 10 creepiest Craigslist stories that actually happened.
10. Free Meat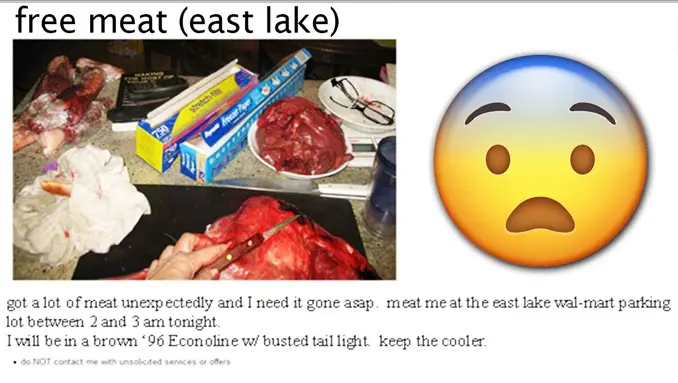 This anonymous Craigslist user claimed unexpectedly received a huge batch of meat – and they needed it gone ASAP. It sounded like a nice enough gesture on the surface, but the terms of the deal were more than a little creepy!
The user wanted to offload their many coolers full of mystery meat in a Wal-Mart car park at the totally reasonable hour of three a.m.!
Not only that, the meat pictured in the ad was allegedly pork but looked like it very well could've been human. Oh, and the vehicle the user drove was described as an 'old window-less van with a busted taillight'. I don't know about you but I think I'm going deaf from all those alarm bells.
9. Intense Friendship
Reddit user VanBede just wanted some quick cash but instead he found himself on the receiving end of a very intense friendship offer. It started when he successfully sold his juicer on Craigslist.
The buyer asked if he could deliver the item to his house, and VanBede happily obliged, since the buyer lived close by. As they were finalising the sale, VanBede and the buyer made small-talk about things they one day wanted to buy.
The next day Vanbede jumped back on Craigslist and came across an ad for a very specific model of desk he wanted. He enquired about it and found out the seller just so happened to be the same guy who'd bought his juicer. VanBede chalked this up as a coincidence and went over to inspect the desk. When he got there he found it was nothing like the one pictured in the ad. In fact, it was clear that this desk had been recently cobbled together from wood scraps.
The next day, VanBede received a text message from the bogus seller asking if he wanted to come over for a beer. VanBede politely declined, wanting to keep all his organs in his body. A short while later, he came across a Craigslist ad for car rims that were the exact make, model and year that he needed. VanBede couldn't believe his luck! He rushed over to the arranged meeting point and found that – you guessed it – the seller was the same guy yet again. VanBede realised that this guy had taken note of all the things he'd said he wanted during their first meeting. He'd been posting ads specifically for VanBede to lure him into hanging out.
Fearing he was going to be skinned and turned into a lampshade, VanBede changed his number and the locks to his house, and then swapped the batteries in his stun gun.
8. Pasta Lover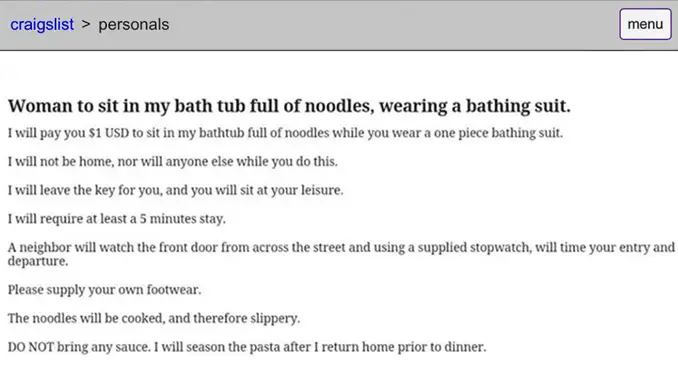 A man posted a Craigslist ad looking for someone to join him in exploring one of the strangest and most unsettling fetishes ever. He offered to pay a woman one US dollar to come into his home and sit in a bathtub full of noodles for five minutes. He promised the house would be empty but specified that a neighbour would be timing the visit from across the street.
If all that wasn't strange enough the ad also stressed that the person should not bring any of their own sauce. This was because the man was planning to season and eat the pasta when he got home later that night.
7. Mandingo Fighting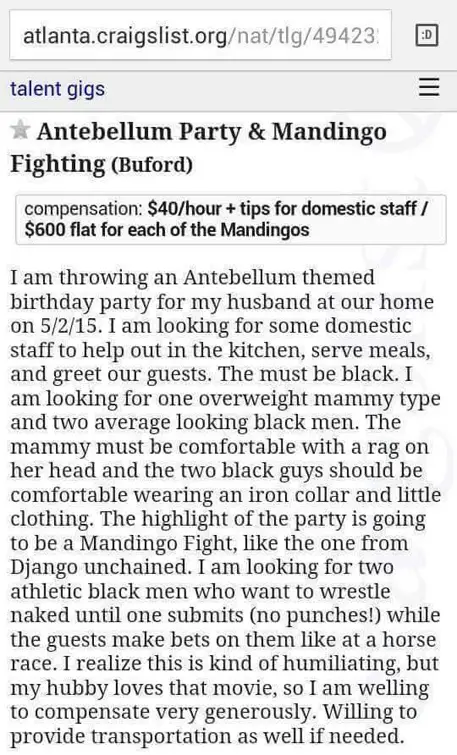 A couple who'd watched Django Unchained too many times turned to Craigslist to fulfill their creepy race-related fantasy.
Their ad explained that they were looking for several large black men to participate in an 'antebellum-themed' party. These men would have to serve them food and wine while wearing iron collars around their necks, slave rags on their heads and… well, very little else! In other words, the couple wanted to spice up their conservative dinner party with some African-American slaves.
The supposed highlight of the party would be a gruesome Django-inspired 'Mandingo Fight'. This entailed the slaves wrestling and beating each other up until they were inches from death – all for the amusement of their rich white friends. The ad claims participants would be generously compensated for the evening of extreme humiliation.
6. Blood Donation
Members of a satanic cult used Craigslist to try to recruit new members. Their ad featured a big picture of a pentagram and asked readers to sacrifice blood or even their own lives to the devil. The poster claimed to have sacrificed five lives already and taken the blood of ten innocents.
Luckily this operation was thwarted before any impressionable Craigslist users fell victim. The poster foolishly put a time and meeting point in his ad, which led authorities straight to them. When police arrived at the address they found four men standing over a bloody pentagram wearing black robes. They were all arrested.
Continue Reading on Next Page: