For those versed in the annals of demonic possession and exorcism, Annaliese Michel's haunting legacy evokes a mixture of sadness, horror, and intrigue. This young German woman's tumultuous journey, marked by purported demonic possession and subsequent exorcisms, has fueled countless books, films, and spirited discussions around the role of exorcism in today's world.
Born on September 21, 1952, in the town of Leiblfing, Bavaria, Annaliese was raised in the folds of Catholicism. Intelligent, compassionate, and deeply spiritual, she was an emblem of devout youth. However, at the tender age of 16, her life veered into a nightmare. Diagnosed with temporal lobe epilepsy in 1968, she began exhibiting symptoms like hallucinations and seizures. As she spent time in a psychiatric facility, her condition deteriorated, manifesting in depression and suicidal tendencies.
As years progressed, her behaviors became increasingly distressing. She displayed an inexplicable aversion to religious artifacts, claimed to hear voices, and saw demonic apparitions. Disturbed by her actions, which ranged from self-harm to consuming insects, her family sought salvation in the Church.
With some persistence, two priests, Arnold Renz and Ernst Alt, embarked on an intense journey to exorcise Annaliese, holding 67 sessions over ten months between 1975 and 1976. The world lost Annaliese tragically on July 1, 1976, with malnutrition and dehydration being her bane. Weighing just 68 pounds, she departed at 23, leaving a trail of questions and controversies in her wake.
The incident catalyzed a global debate, landing the involved priests and her parents in court, convicted of negligent homicide. This prompted the Catholic Church to amend its exorcism guidelines. Annaliese's haunting tale has found its way into pop culture, most notably in the 2005 movie, "The Exorcism of Emily Rose."
Enter the era of TikTok. A German user, arvin.de, recently reignited interest in Annaliese's legacy with a series of gripping videos. Motivated by curiosity, they embarked on a journey to Annaliese's erstwhile home, only to find it demolished. Yet, nearby stood a poignant monument commemorating her.
In a follow-up TikTok, arvin.de explored an old barn linked to the Michel family. What seemed like a regular video took a chilling twist. Slowing down the footage, viewers discerned a face amidst the barn's rafters – eerily reminiscent of Annaliese. This TikTok sensation spurred a frenzy online. Was this truly Annaliese's spirit? Was her soul still restless?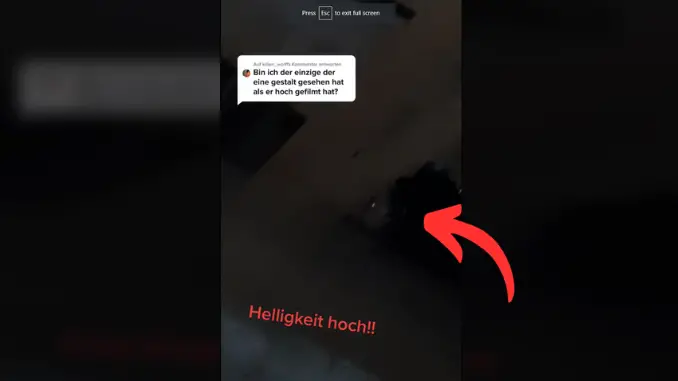 This revelation has rekindled debates on Annaliese Michel. While some argue the apparition is her unrestful spirit, skeptics suggest optical illusions or mere overactive imaginations. Regardless of the stance, one thing is clear: Annaliese Michel's haunting legacy continues to grip the world, with the mystery deepening, one TikTok at a time.