While most restaurants strive to strike a balance of elegance, presentation, excellent food and reasonable price, there are the select few that ignore the reasonable price part and go for all out indulgence. If you're looking to save money in your favourite local restaurants, check out these restaurant coupons. The theme of these restaurants all vary but the one thing they all have in common is a respect for ingredients – purity and quality is paramount. The restaurant market has an extremely wide and varied pricing structure, so don't be put off by the prices on this list. In fact, owning a restaurant has become quite attainable, provided you think smart with your money. Just because you are just starting out doesn't mean that you can't think about the future of your business. Every restaurant business wants to be the best, which is why you should be willing to do anything (within reason) to be able to give you and your company this title. Why not take a look at this website if you are looking for a head start in this field, especially for small to medium sized businesses. There's nothing you can't do when it comes to running a business with the advancement of technology in the world today. A way to be smart is to use comparison sites like Simply Switch to ensure utility bills are as low as they can be. The restaurants on lists are unlikely to be as concerned with such savings though, so here are six of the most expensive restaurants in the world presented in alphabetical order.
[embedyt] https://www.youtube.com/watch?v=O5ABymBD4M4[/embedyt]
6. Aragawa – Tokyo
Opened in 1967, this Japanese institution prides itself on serving only the highest quality ingredients. Among the somewhat eclectic decor of cherry-wood tables, silk tapestries and Swedish chandelier, you can enjoy the cherished Sanda beef which comes from cattle raised for more than 28 months in the Hyogo Prefecture. Only selected cattle will meet the standard before being served up to diners with an astonishing price tag of US$370 per person. It is a very elegant restaurant and for those who want to taste arguably the best beef in the world, then it may be worth the expense.
5. Gordon Ramsay – London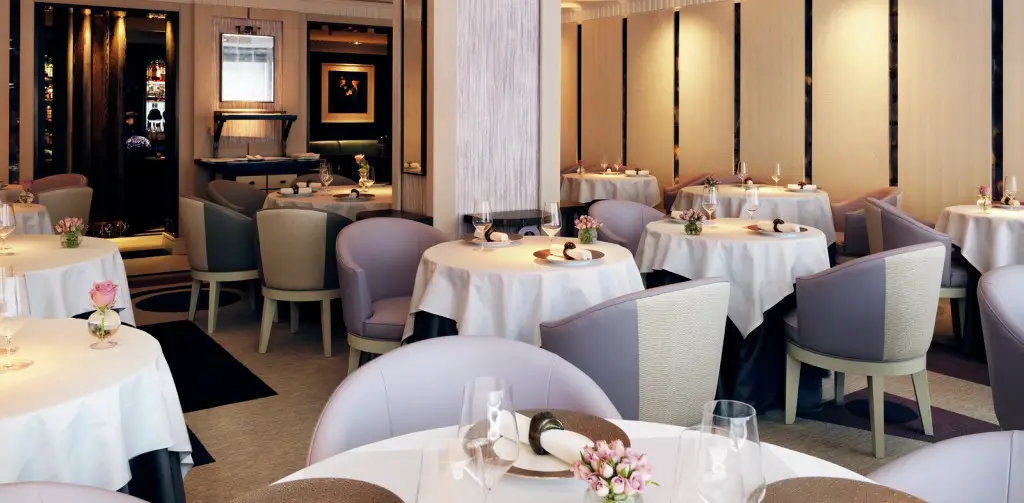 The famed chef and host of several reality TV shows runs one of the most expensive restaurants in the world in Chelsea, London. Since 2001 it has held its three Michelin stars which is quite remarkable and offers a series of excellent selections such as lobster ravioli and roasted lavender pigeon. Of course, taking in a special or two will cost an average of US$320 and that doesn't include the 12.5% gratuity which pushes it closer to US$355 per person.
4. Ithaa Undersea Restaurant – Maldives
The main attraction of this unusual restaurant is an incredible view of sea life as you dine under the Indian Ocean. Rated as the 'most beautiful restaurant in the world' by the New York Daily News, Ithaa sits five metres below the ocean's surface with stunning 180-degree views of the surrounding coral reef. Offering a European inspired menu with a six-course meal starting at US$320 per person before drinks and tips, diners are treated to Maldivian lobster carpaccio and saffron champagne risotto. You'll need to meet the dress code, but at an average of US$500 per person you can probably afford the outfit.
3. Masa – New York City
In the Time Warner Center, in the heart of NYC, is one of the most luxurious dining experiences in the world. Operated by Masa Takayama, this restaurant transports its diners to another world. From the sushi counter that is sanded every single day to the decor of seasonal plants that constantly change, this restaurant aims for perfection. Offering a tasting menu that costs US$595 per person and that is before drinks, or taxes, Chef Masa strives to present food in it's purest form, highlighting the innate character of each ingredient. This restaurant is so expensive that having to cancel a reservation may cost you US$200 per person.
2. Restaurant Le Meurice – Paris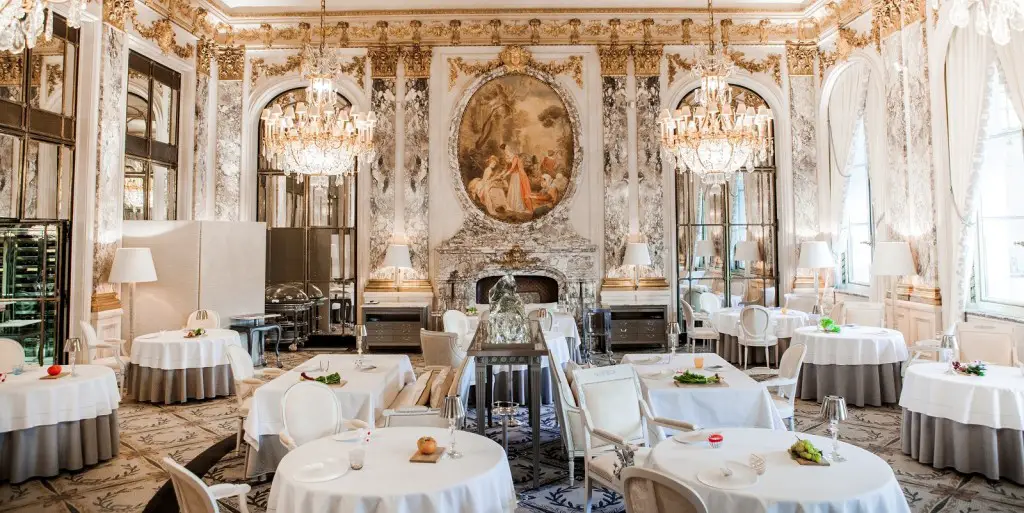 Inspired by the Palace of Versailles, this restaurant spares no expense in terms of luxury and offers an incredible setting amid the marble and bronze features highlighted by crystal chandeliers. There are many decadent selections found in this remarkable restaurant which attracts the wealthy from all over the world. For a mere US$429 you can taste the 'collection menu' which offers specialties such as vegetable cooked in a salted crust, black truffle poultry or the lobster topinambours, finishing the experience with some cheese and chocolate. While the 'collection menu' does sound pricey it pales in comparison to the a la carte menu where a plate of asparagus costs €90!
1. Sublimotion – Ibiza
Located in Playa de Bossa at the Hard Rock Hotel in Ibiza, Sublimotion only allows 12 people in the restaurant at once. The meal is spread over 20 courses that are designed to create an emotional experience as well as feeding your hunger. This unique dining experience includes adjusting the micro-environment that surrounds your table for the perfect experience as well as roaming digital worlds with VR headsets. Sublimotion could be described as a complete experience of psychology, technology, and excellent food that comes wrapped in a price tag of nearly US$2000.
—
So there's our countdown of the most expensive restaurants in the world. Did this listicle make you clutch at your poor wallet or were you salivating at the mouth? Either way, let us know on Twitter and Facebook.