Jurassic World stomps its way to a Box Office world record, bringing in more than $511 million in the world-wide opening weekend.
Critics were expecting a hit but Jurassic World claimed a much higher spot than anticipated clawing in $204.6 million in the US alone, some $80 million higher than predicted.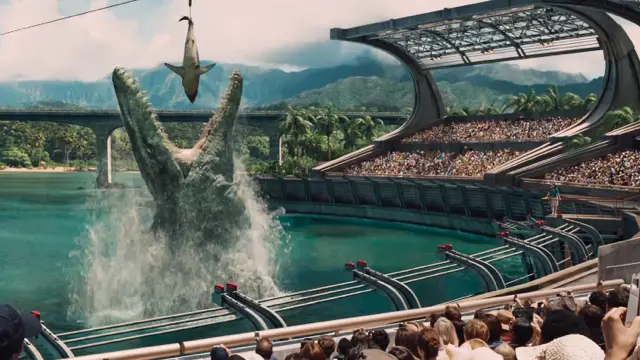 Jurassic World managed to edge its way past Avengers: Age of Ultron's formidable posting of $191.3 million in its US opening weekend back in May. It ranks just behind 2012's Marvel hit The Avengers of $207.4 million. But it did manage to shatter all June-high water marks with highest-grossing opening weekend, opening day and and biggest PG-13 launch of all-time.
And what of Jurassic World's leading star, Chris Pratt? There's buzz about Hollywood that he'll be the next Tom Cruise, becoming the most bankable male actor in coming years. After a solid 2014 with the success of Lego Movie and Guardians of the Galaxy and with rumours that he'll be the next Indiana Jones, Chris Pratt is fast becoming the most sought-after actor in Hollywood.
While Chris Pratt did put in a great performance in Jurassic World there was one actor that stole the show for sure. Amidst the chaos of a flying reptile attack one man definitely had his priorities in order. This .gif from enerJax sums it up perfectly: