Silly Sandwiches of the World
When the Earl of Sandwich spontaneously invented this lunch time hit during the mid-eighteenth century he'd have scarcely known what a phenomenon it would become. From the world's meatiest to the world's stupidest, a sandwich that actually comes in a can. Join us as we take a bite out of the silliest sandwiches of the world.
The Lasagne Sandwich
Everyone loves lasagne, right? Well what if we put it in between two slices of bread? That's exactly what the geniuses at UK super market chain Tesco thought when they designed The Lasagne Sandwich. When asked about the inspiration for this lunch time monstrosity Tesco food designer Laura Fagan recalls her university days when everything tasted better the next day. Originally pitched as a 'solid snack between meals' Tesco quickly back peddled toting it as an 'occasional treat' when it was revealed that this Frankensandwich contains more fat than two McDonald's cheeseburgers. Nice work Tesco.
Subway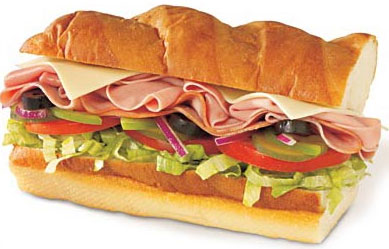 Their entire menu.
Friendly's Grilled Cheese Burger Melt
American fast-food chain Friendly's serves up this pseudo-sandwich with enough salt, fat and sugar to kill a small horse. Teetering on burger territory, this sandwich is three-in-one. It's a beef patty with all the trimmings crammed between two toasted cheese sandwiches, it has been dubbed 'death on a bun' and rightly so. This abortion boasts 1500 calories, 97 grams of fat and an outrageous 2,090 milligrams of sodium.
Denny's  Mac 'N Cheese Big Daddy Patty Melt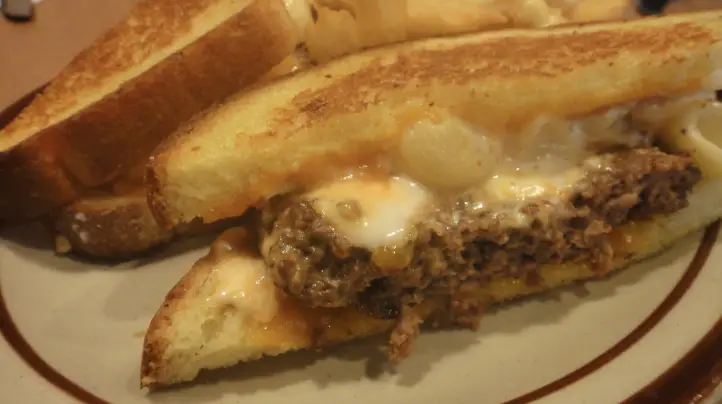 This thing is a mouthful by name and by ingredients. The sheer stupidity of this sandwich cannot be underestimated. It's a beef patty drowning in macaroni and cheese, extra melted cheddar and Frisco sauce (a silly sauce in itself), doubled teamed by buttery potato bread on either side. It's brown and yellow and a little bit sweaty. And for just 69 cents you can add an extra cup of cheese. Sleep well fair Denny, for you have delivered another quality meal to the masses. Job well done.     
The Meatwich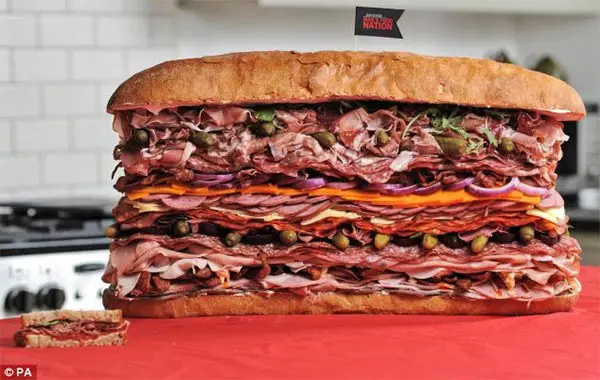 This thing is ridiculous. It's the world's meatiest sandwich, filled with 41, yes 41, different types of meat – cramming in pork, chicken, beef, turkey and miscellaneous. This colossal abomination weighs in at more than 12 kilos (26 pounds), measuring 38 centimetres high (15 inches) and 60 centimetres long (24 inches). It's reported it would take around 10 hours to consume.  This is an embarrassing sandwich and should be told to go to its room.
The Double Down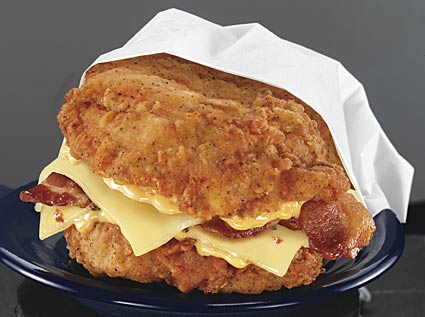 I may have been a bit hasty calling the previous sandwich embarrassing when the Colonel is dishing up this upsetting excuse for a meal – The Double Down. It's a slippery meat-on-meat first date kind of sandwich. Doing away with the bun this horror show is just two pieces of deep-fried chicken with bacon, cheese and sauce slapped in the middle.  According to the KFC website this 'sandwich', when released back in 2010, was a national sensation selling more than 10 million in its first month. Now making its triumphant return, the website even 'dares' you to try one and sing its sweaty praises on twitter – #HowDoYouKFC more like #HowDoYouCallAnAmbulanceWithSuchGreasyFingers
The Candwich™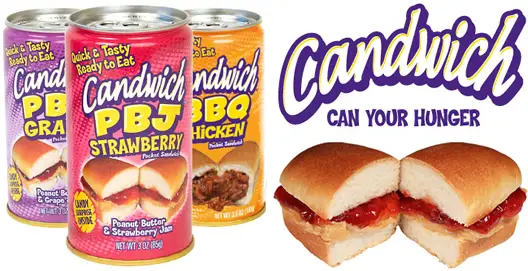 You'd almost think we're taking the piss with this one but sadly (or happily?) this product does exist.  Peddled as a quick solution for hungry kids this laughable snack comes straight from a can. It's a sandwich in a can – it's ridiculous. Coming in a range of mouth-watering flavours The Candwich™ even boasts that it will be 'soft and sweet after one year in storage'. Mmmmm, who doesn't want to munch one down? It even suggests that it's 'ideal for emergency food storage needs in the event of a natural disaster.' I know what I'm reaching for when the zombie apocalypse finally descends. 'Alright kids, shit's going down, grab your Candwich.'