5. The Long Island Serial Killer
The Long Island Serial Killer began taking the lives of sex workers as far back as 1996, claiming at least ten victims and possibly more. In 2010, the work of this killer finally came to the attention of law enforcement officers while they were searching for Shannan Gilbert, a missing escort. Officers were searching Gilgo Beach in Long Island, New York in December 2010, and while Gilbert wasn't found until 2011, four other bodies were discovered. The four victims were Maureen Brainard-Barnes, age 25, Melissa Barthelemy, age 24, Megan Waterman, age 22, and Amber Lynn Costello, age 27. Six more bodies were eventually discovered in the Gilgo Beach area, a location that was relatively isolated due to contamination issues. Of the six additional victims, only Jessica Taylor, age 20 was positively identified. All of the victims had been strangled, and some had been dismembered. Some of the first bodies discovered were also wrapped in burlap sacks, but the bodies that were discovered later were not.
The five victims who had been identified were all escorts who advertised on Craigslist. All five had also mentioned to friends and colleagues that they were meeting clients on the night of their disappearance. It was likely that they had been contacted by the Long Island Serial Killer.
There have been several persons of interest in this case including former Suffolk County Police Chief James Burke, but none of these leads came to fruition. It has been speculated that the killer might have some type of police experience due to their ability to cover their tracks and out-maneuver the police investigation.
4. The West Mesa Bone Collector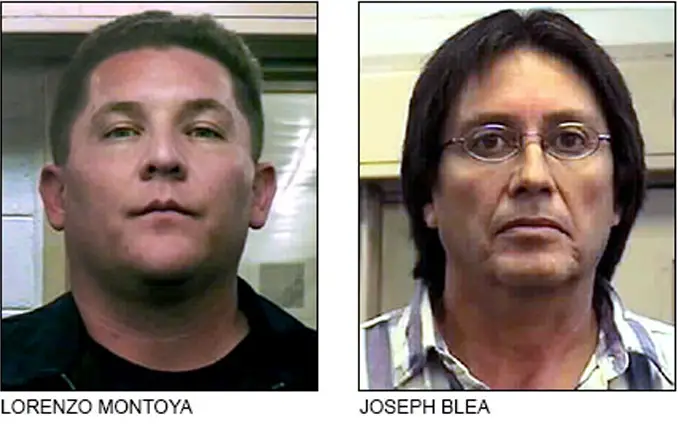 On February 2nd, 2009, 11 women ranging in age from 15 to 32 years were discovered in the desert on the West Mesa of Albuquerque, New Mexico. A woman who was walking her dog discovered a human bone and contacted the police. The bodies were discovered over 92 acres of land and it took investigators several weeks to recover all of the bodies.
After the bodies were recovered, it took another year to identify all of the victims, of which ten were drug addicts and prostitutes. All of the women had been missing for some time before they were actually discovered – all having disappeared between 2001 and 2005. The victims were as follows: Jamie Barela, age 15, Monica Candelaria, age 22, Victoria Chavez, age 26, Virginia Cloven, age 24, Syllania Edwards, age 15, Cinnamon Elks, age 32, Doreen Marquez, age 24, Julie Nieto, age 24, Veronica Romero, age 28, Evelyn Salazar, age 27, and Michelle Valdez, age 22. Most of the women were Hispanic. Syllania Edwards was the only African American victim as well as the only victim who wasn't from New Mexico. She was a runaway from Lawton, Oklahoma.
Police hoped to placate the families of the victims with promises that they would catch the killer, but there wasn't a lot for them to work with, even with the aid of FBI profilers and state-wide cooperation of law enforcement agencies. There were no witnesses, and no forensic evidence to speak of where the bodies were found. The only things that the victims shared were their lifestyles and the fact that most of them were Hispanic. There have never been any official suspects in the case.
3. The Atlanta Ripper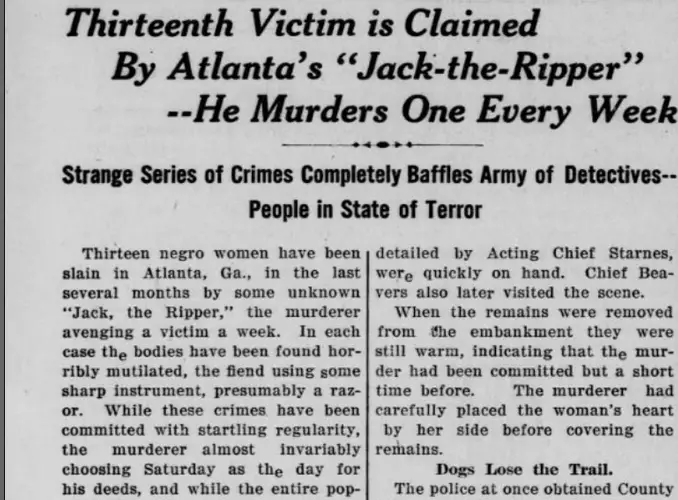 Beginning in 1911 and for the next four years, Atlanta was plagued with a murderer that was specifically targeting African American and mixed-race women. It's believed that as many as 22 women were killed, all of them in their early to mid-20s. Most of the women had their heads crushed and their throats cut. Mary Putnam and Eva Florence also had their hearts removed and strangely enough, some of the women were also missing their shoes.
Emma Lou Sharpe had perhaps the most harrowing encounter. On July 1st, 1911, Sharpe went in search of her mother when she hadn't returned from doing some shopping. She encountered a man who approached her, asking how she was feeling. Sharpe gave a response that she was fine and turned to walk away. The man blocked her passage and stated that he never hurt "girls like you." He then stabbed Sharpe in the back with a knife. Sharpe managed to escape to safety, but her mother was later discovered dead nearby.
It has been argued that this case wasn't given the attention it was needed by local law enforcement and the press due to racial inequality. Several women were killed before any real attention was given to the case by the press. In all, five suspects were arrested including Todd Henderson, John Daniel, Charlie Owens, Henry Brown, and Henry Huff, but the killings continued. Some believe that it was the work of multiple killers. Eventually the killings stopped as suddenly as they started.
2. The Doodler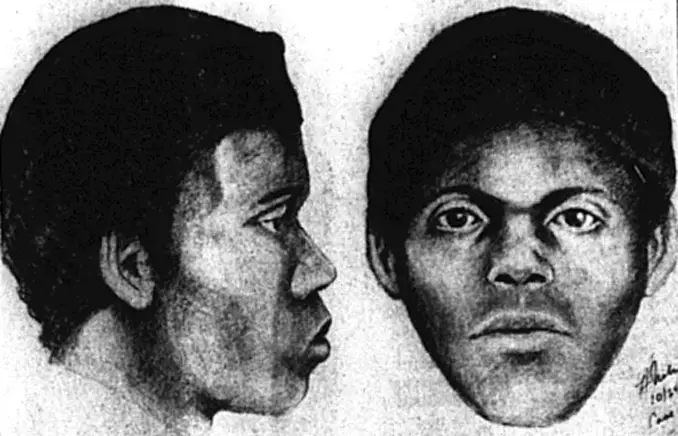 From January 1974 until September 1975 the gay community of San Francisco was the target of a ruthless killer known as The Doodler. He was given this name because he would sketch his intended victims to intrigue them and put them at ease, usually at one of several gay clubs in San Francisco. He would then entice them into leaving the bar with him in search of a more private setting where he would first have sex with them before stabbing and killing them. In total, 14 men were killed and three others were assaulted by The Doodler.
The Doodler's first victim, Gerald Cavanaugh, age 49 was found on San Francisco beach on January 27th, 1974. His next victim was Joseph "Jae" Stevens, a 27 year old female impersonator. It was thought that the killer had Stevens drive them to Spreckels Lake on June 25th, 1974 where Stevens was later found dead. Several more victims followed including Claus A. Christmann, age 31, Frederick Elmer Capin, age 32, and Harald Gullberg, age 66.
Three men survived assaults by The Doodler. No names or identities have ever been given, but it is believed that one was a popular entertainer, one was a European diplomat and one was a publicly recognized San Francisco figure. Because these gentlemen were concerned about their sexual preferences being revealed to the public, none were willing to come forward and testify when the police apprehended a suspect that they felt was responsible for the killings. Because of their unwillingness to come forward, the suspect was released and his identity was never revealed to the public.
1. Jack the Ripper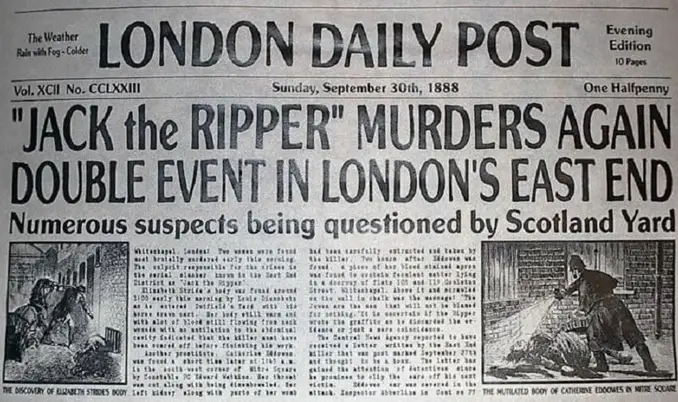 Jack the Ripper was and still is one of the world's most infamous criminals. He killed five prostitutes between August 31st and November 7th, 1888 in the Whitechapel district of London's East End. There has been much speculation about who Jack the Ripper actually was, as well as what his profession might have been because of the precision with which he mutilated the bodies of his victims. It is thought that he had a keen understanding of human anatomy, leading many to believe that he may have been a doctor or some other professional with extensive medical knowledge.
Mary Ann Nichols was discovered on August 31st, 1888 with a slit throat that nearly decapitated her as well as numerous incisions to her abdomen. Annie Chapman was discovered next on September 8th, 1888. Her abdomen had been cut open and her throat had been cut. The killer had also taken her uterus as an apparent trophy. Elizabeth Stride and Catherine Eddowes were both discovered on September 30th, 1888. Stride's throat had been cut, but there were no other mutilations, suggesting that the killer was interrupted. Eddowes was found approximately 45 minutes after Stride. She had received a deep wound to her abdomen, and her throat had been cut. She was also missing her left kidney and a large portion of her uterus. The Ripper's final victim was Mary Kelly. Kelly was discovered on November 9th, 1888 in the room she rented at Miller's Court. She had been brutally mutilated, with much of her skin flayed to the bone. Her throat had been severed to the spine and her abdominal cavity was emptied of the majority of her organs. Her heart had also been taken.
The killer was dubbed "Jack the Ripper" due to a letter written by an individual claiming to be the killer. The letter was ultimately considered to be a hoax, but the name stuck. Police officers attempted to discover who the killer was. Forensic evidence was gathered, house-to-house searches were performed, and over 300 people were questioned. The final number of suspects named as the possible killer reached over one hundred, but no definite answers were ever found. There has even been some speculation that H.H. Holmes, the Chicago serial killer who murdered at least 27 people in his Murder Castle in the late 1800s could actually be Jack the Ripper.