In part two of our feature on the history of cereal, we take a look at the Post cereal empire and how it went on to be one of America's wealthiest companies. If you missed the first instalment go here for part 1.
Australia's own Sanitarium
As a sort of homage to the Kellogg's brothers, Australia's iconic brand Sanitarium, famous for its flagship product Weet-Bix, has ties back to Battle Creek, Michigan.
In 1897, a baker at the Battle Creek Sanitarium named Edward Halsey was convinced by a friend to immigrate to Australia. He did so, and in November that year opened a small bakery in Melbourne where he produced granola (a mix of wheats, oats, maize and rye) and Granose (an early version of Weet-Bix). Halsey and his team would travel door to door selling the cereals as a replacement for the fatty breakfasts that were being consumed at the time.
In 1900, he travelled to New Zealand to sell granola, which became New Zealand's first breakfast cereal.
Similar to the Battle Creek establishment, Australia's Sanitarium is wholly owned by the Seventh Day Adventist Church, even to this day. Being owned by a religious organisation means Sanitarium in Australia and New Zealand are tax exempt, a status that has been challenged a number of times by its competitors in the market as they believe it is an unfair advantage. 
Post Kellogg's
In 1895, C.W Post created Postum, a sort of cereal beverage that was branded as an alternative to coffee. Postum, made from wheat bran, wheat, maltodextrin and molasses, enjoyed popularity during World War II due to an increased shortage of coffee.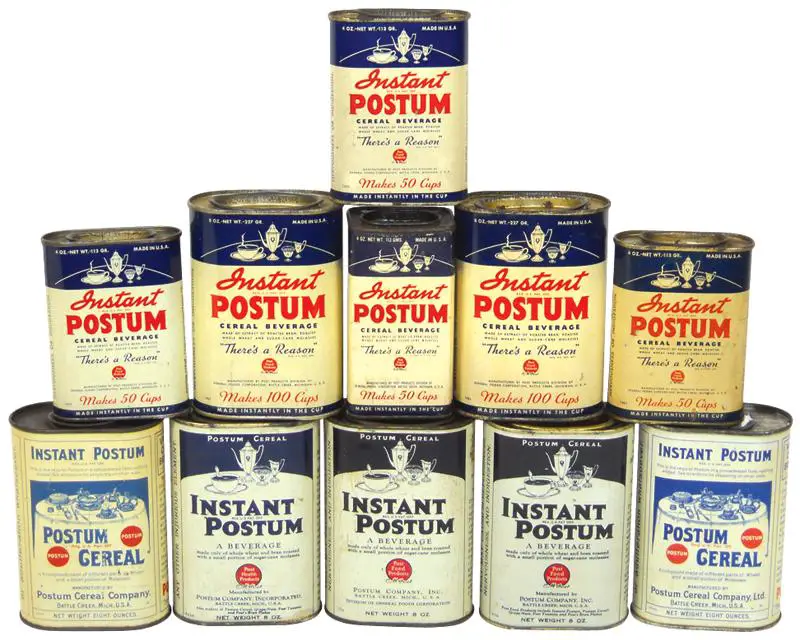 Post's first attempt at cereal was Grape Nuts. Developed in 1897, it was made from wheat and barley and later whole wheat to boost nutrition. Despite the name, the cereal contains neither grapes nor nuts. It is believed that Post named it that due to the grape-like aroma that arose from production and the sucrose that formed during the baking process which he called 'grape-sugar'. The 'nuts' came from the crunch one gets when eating the cereal. Many years later employees for Post Cereals claimed that the finished product's resemblance to grape seeds were reason for the name.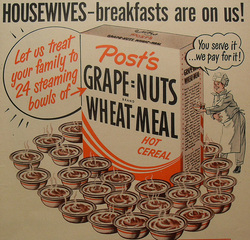 Due to the cereals resistance to spoilage it became a popular energy food for explorers in the '20's and '30's. Later, Grape Nuts became a standard ration in the 'jungle packs' used by soldiers leading up to World War II.
Post followed the success of Grape Nuts with a corn flake cereal he called Elijah's Manna, later renamed Post's Toasties in 1908. The public resisted the biblical reference, while Great Britain refused to register the name as a trade mark altogether, hence the name change to Post's Toasties.
Despite the bizarre product names, C.W Post was an innovative business man setting the benchmark for marketing and advertising campaigns in the cereal industry. Post's marketing tactics included extensive advertising, coupons, free samples, product demonstrations, plant tours and recipe booklets – these methods are now considered industry standard.
Within ten years of its incorporation the then named Postum Cereal Company had more than $10 million dollars in capital, outlaying amounts for advertising campaigns that were considered extraordinary for the time.   Post's employees were the highest paid workers in the industry, with the conditions at the Post factory considered exemplary. A makeshift town sprang up around the Post factory to which Post sold homes to his employees at amicable rates.
In early 1914, C.W Post's health began to fail. He was rushed to Rochester, Minnesota via a specially designated non-stop train service. He was successfully treated for acute appendicitis and was later cleared to return home to Santa Barbara, California. Later that year Post was found dead from a self-inflicted gunshot wound. The suicide was the apparent result of a bout of depression that came about from his failing health. His amassed fortune was passed on to his only daughter, Marjorie Merriweather Post.
After the death of its founder, Postum Cereals Company expanded rapidly. Starting in 1925 over a period of four years they had acquired over a dozen major businesses, notable ones include: Jell-O, Baker's chocolate and Maxwell House coffee. Postum Cereals Company increased its product range to over sixty different products which ultimately brought about a name change of General Foods Corporation in 1929.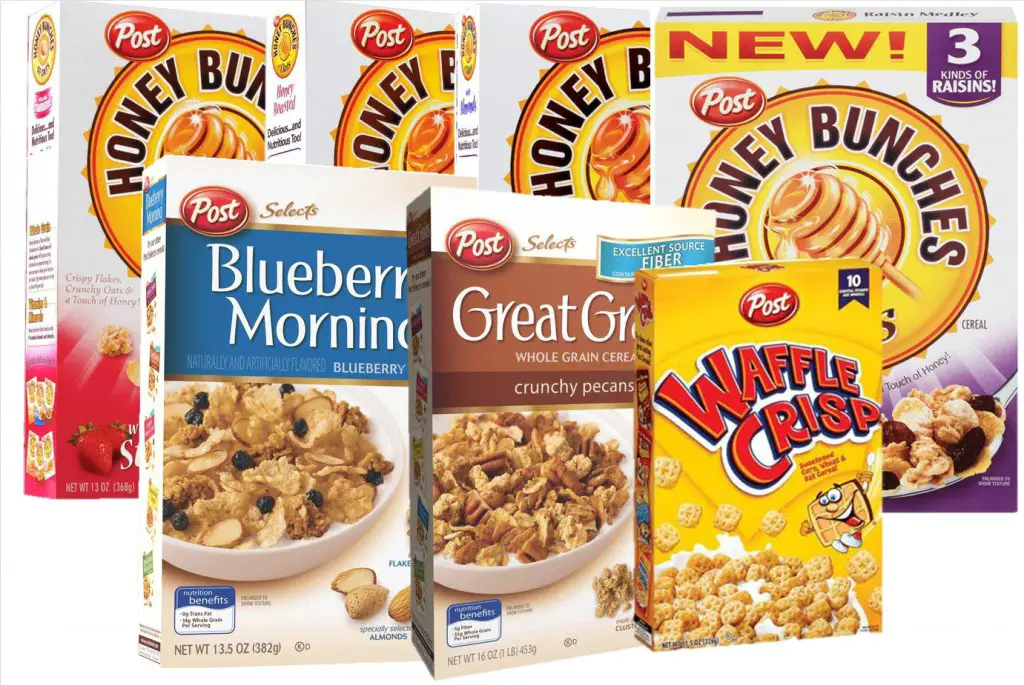 In 1985, General Foods Corporation was acquired by tobacco powerhouse Phillip Morris, who then in 1989 merged General Foods with Kraft Foods. The acquisition is an ironic move when considering C.W Post's opposition to tobacco and alcohol, one of the reasons why he stayed at the Battle Creek Sanitarium in the first place.
Finally in 2007, Kraft announced that it would return Post Cereals back to their roots by creating a spin-off company called Post Food, LLC