If you have ever thought of building an eye catching centerpiece out of human bone, chances are you're already being watched by the F.B.I. Unfortunately, that type of thing is unaccepted today. But two hundred years ago, any wall could be spruced up with a human skull or two. Join us as we take a look at some of the most eerie places made of bones.
Eerie Places Made of Bones – The Capuchin Crypt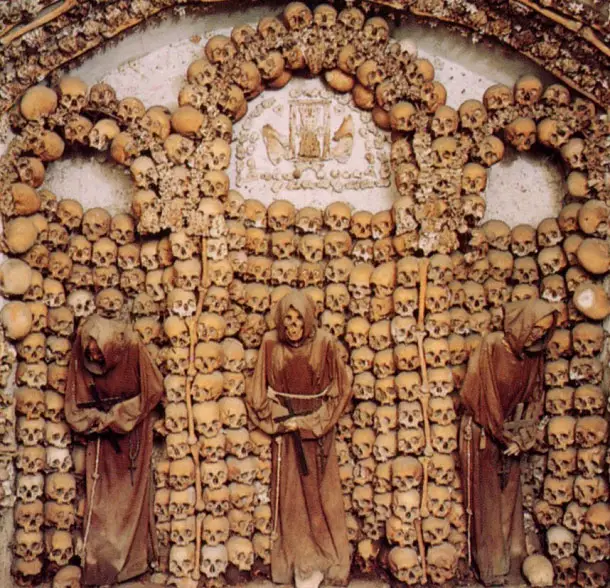 The Capuchin Crypt, commissioned by Pope Urban VIII in 1626, lies beneath a small church in Rome, Italy. The Pope's brother, Antonio Barberini, a Cupuchin friar, ordered the exhumation of thousands of dead friars with their bones to be moved to the new crypt. The crypt became the final resting place for about 4 000 friars, buried between 1500 and 1870. One wall of the crypt features bones that have been arranged in different patterns surrounding several intact skeletons still wearing friar's robes. This dimly lit crypt is open for tourists brave enough to catch a glimpse of the eerie artwork with one plaque reading 'What you are now we used to be; what we are now you will be.' Creepy!
Eerie Places Made of Bones – Scull Chapel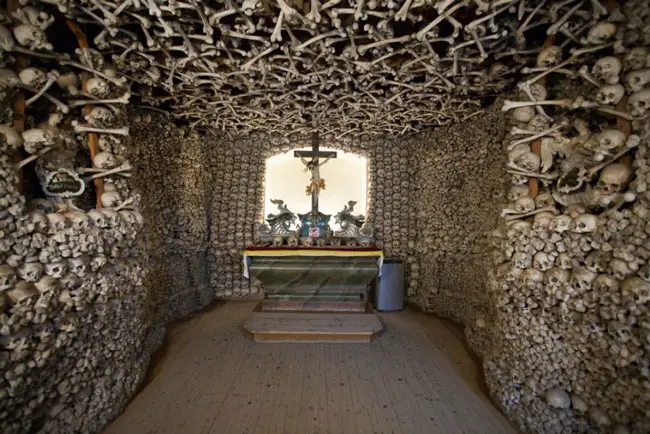 With a small, unassuming exterior the Scull Chapel in Poland hides an eerie secret. It contains more than 3000 human skulls! There is also another 21 000 skeletons stuffed in the basement. Inspired by the Capuchin Crypt in Rome, this dedication to the dead took 18 years to construct and fill with bones. (Surely stacking bones for 18 years of your life has got to make you a little odd?) Inside the chapel there is a carving of an angel that reads 'Arise From The Dead.' Probably not the best place to seek refuge when the zombie apocalypse begins.
Eerie Places Made of Bones – The Fossil Cabin
The Fossil Cabin in Wyoming, U.S was built in 1932 by Thomas Boylan. Originally intending to collect fossils from the local area to construct a dinosaur skeleton, Boylan soon realized the difficulty of the project. The fossils he collected were from several species of dinosaur making it impossible to construct one complete dinosaur skeleton. With the help of his son, Boylan instead constructed a wooden cabin and lined the exterior with the found fossils. In 1938 Ripley's Believe it or Not dubbed the dwelling the oldest cabin in the world, which is obviously not true. Just watch an episode of the Flintstone's.
Eerie Places Made of Bones – Sedlec Ossuary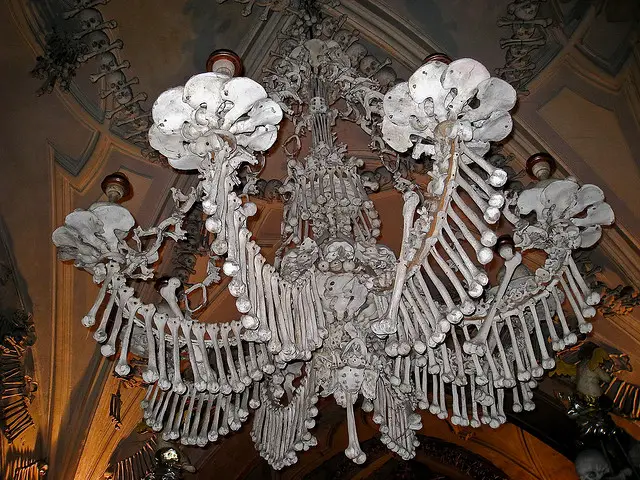 Located in Kutna Hora, Czech Republic, the Sedlec Ossuary is perhaps the most bizarre bony building of them all. The ossuary was built using the remnants of between 40 000 to 70 000 skeletons. The centerpiece is an enormous draping, chandelier, built with at least one of every type of human bone. Pelvises, femurs, vertebrae and skulls. You name it the chandelier is made from it. Several other sculptures line the building's interior including a bony coat of arms and other arrangements. The macabre creations were not added until 1870 when a man named Frantisek Rint was employed to arrange the piles of accumulated bones into something a little more eye friendly. Naturally he thought gigantic chandelier made of human remains. Nice!
Well there it is, eerie places made of bones. Not my first choice for a building material but the architects of yesteryear proved that in a pinch, the local cemetery is a one stop shop for all your D.I.Y. needs.