Bathrooms are all about purpose and practicality, they're designed to do a job and that's it. But what if we want to spice things up and get a little whimsical? Well here are some bizarre bathroom accessories that are sure to add some personality to your water closet. Enjoy.
Crazy Toothpaste Flavours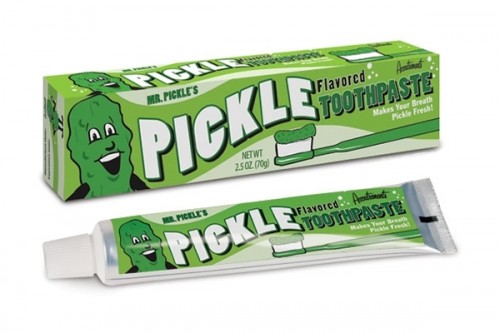 You know when you're cleaning your teeth and you think, 'damn mint, why are you so boring?' Well luckily minty fresh breath could be a thing of the past with this collection of exciting toothpaste flavours. Now your teeth cleaning escapades can finally experience the full-spectrum of flavour, from cupcake to Indo Curry or even pickle. Man-up your bathroom routine with scotch flavour. Prepare for a night of poppin' bottles in da club with Champagne flavour. Or the best of the lot – bacon flavour! Nothing says kiss me like some fatty meat breath.
Wacky Soap Dispensers
Washing your hands suddenly just got really exciting. Soap dispensers come in all shapes and sizes, from a range of novelty pumps like Spongebob and Darth Vader to a giant nose filled with runny green soap you affix to the wall. The best of the lot though would have to be this David Hasselhoff dispenser, where a quick press of his junk rewards you with a spurt of anti-bacterial foam – fun for the whole family!
Ipod Toilet Roll Dispenser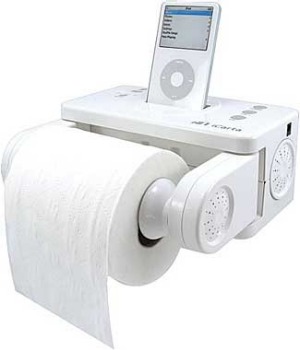 If only there were more opportunities to get faecal matter on Ipods. Well now thanks to the iCarter Ipod Toilet Paper Holder you can add bacteria to your playlist. Let everyone know your blastin' brown with this all in one, moisture resistant Ipod dock, charger and sound system that doubles as a toilet paper dispenser. 'Hang on a second, this is my favourite part!'
The Goatee Saver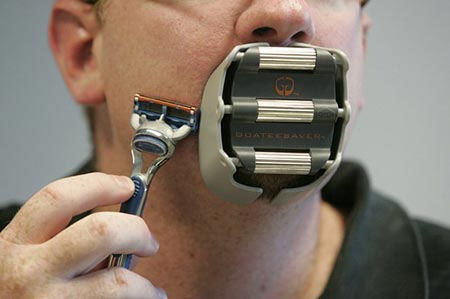 This fully adjustable shaving aid solves a problem you never even had. Goatee Saver is a specialised mouthpiece that acts as a template for shaving your goatee. Now you can finally sport a perfectly manicured goatee and pretend to be Bane each and every morning.
Weener Kleener
Men, have you ever been in the shower and thought: 'how on earth am I going to get this clean?' Have you been completely puzzled all these years, wishing that liquid soap could somehow form a ring around your bits? Well now there's a product out there to soothe that wash-time anxiety. It's the Weener Kleener! It's soap in ring form. Finally you can proudly go out in public knowing full well that your parts and pieces are squeaky clean. Thanks Weener Kleener!