Since the dawn of time man has looked up at the stars and wondered if there was anyone out there. If there was and they visited, would they be friendly or would they use their advanced technology to obliterate all of us? But have you ever asked yourself, what if extraterrestrials have already been here? What if they have guided and shaped past civilizations and what if they actually fathered mankind itself? Join us as we ask the question – Were ancient civilizations visited by aliens?
Nazis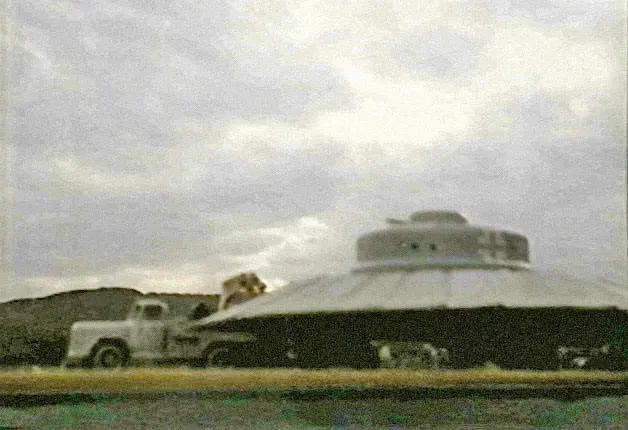 During World War 2 rumours began circulating of a Nazi flying machine known as the Haunebu. This machine was described as saucer-like in appearance and was reported to be able to reach speeds in excess of 2 200 km/h (1,400 mph). In December, 1965, German engineer Rudolf Schriever, gave a magazine interview in which he reported working on such a craft. He revealed that the design and model of the aircraft was stolen from his workshop by whom he believed to be Czech spies. Fellow German engineer, Georg Klein, claimed that he had witnessed the craft's first manned flight on 14th February 1945, reporting the craft managed to climb to 12,400 m (40,700 ft) in 3 minutes.
Did the Nazis possess alien technology? Or were their scientists and engineers simply more advanced than those of the allies?
Ancient Indians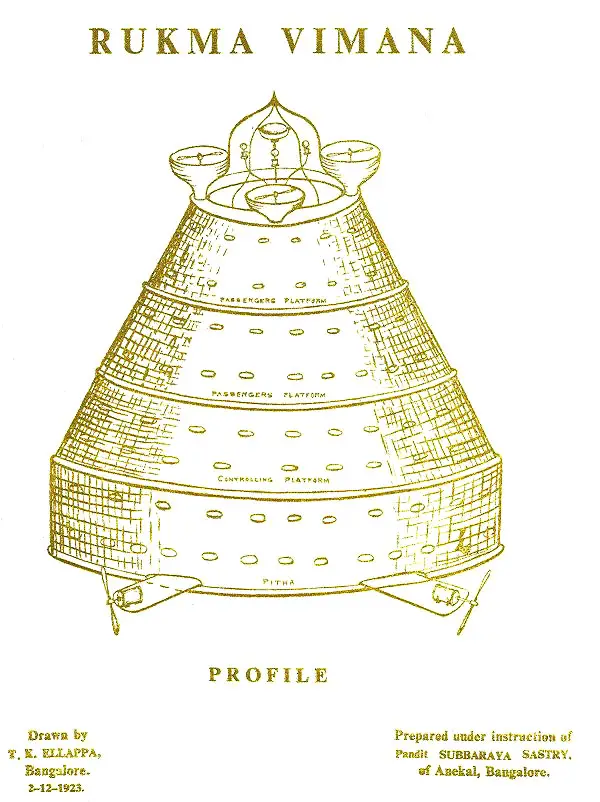 In the ancient Hindu mythologies the Mahabharata and the Ramayana, several passages refer to flying machines known as vimanas. The Ramayana describes a vimana as a double-deck, circular (cylindrical) aircraft with portholes and a dome. It flew with the speed of wind and gave forth a melodious sound. Are these just ancient stories or actual accounts of alien spacecraft? An exerpt from a passage entitled The Magic Car reads:
This chariot, kept with utmost care,
Will waft thee through the fields of air,
And thou shalt light unwearied down
In fair Ayodhyá's royal town.
The Samara Sutradhara, an ancient scientific work dating back approximately 1000 years contains detailed information on the construction, control and propulsion of these aircraft. The works describe such events as takeoffs, forced landings and even what to in the case of collision with birds. The 4th century B.C. work The Vaimanika Shastra details the vertical takeoff of such airships and possibly describes their capabilities to switch to solar energy drives.
Mayans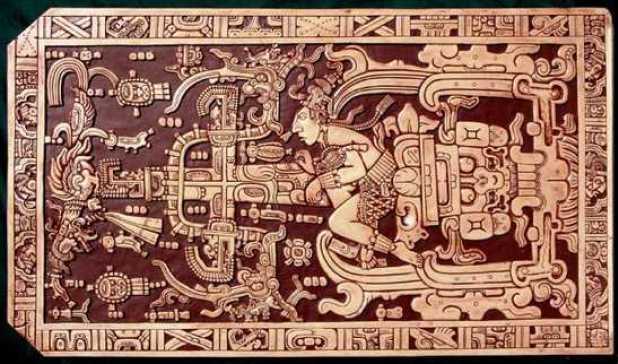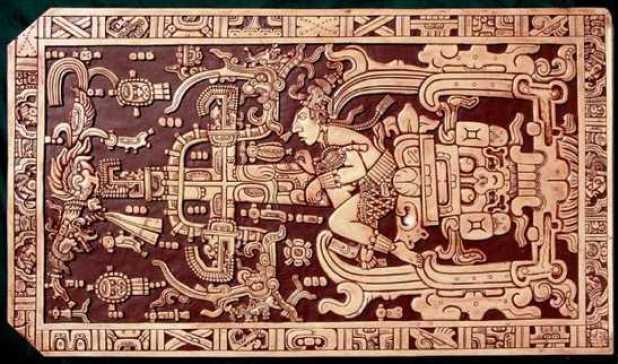 Chariots of The Gods author, and ancient astronaut advocate, Erich von Däniken believed that the carvings on the sarcophagus of the Mayan ruler Pakal The Great, were of the leader piloting some sort of spacecraft. In the carving, von Däniken claimed that one can see Pakal in a seated position with an oxygen mask covering his nose. His arms clasping at a control while his foot appears pressed on some sort of pedal. A flaming exhaust can be seen to the rear of the machine. The edge of the carving displays the Mayan cosmological signs for sun, moon and star. Von Däniken thought that this carving supported his theory that alien flying machines were brought to Earth in ancient times by interplanetary astronauts.
Ancient Alien Artwork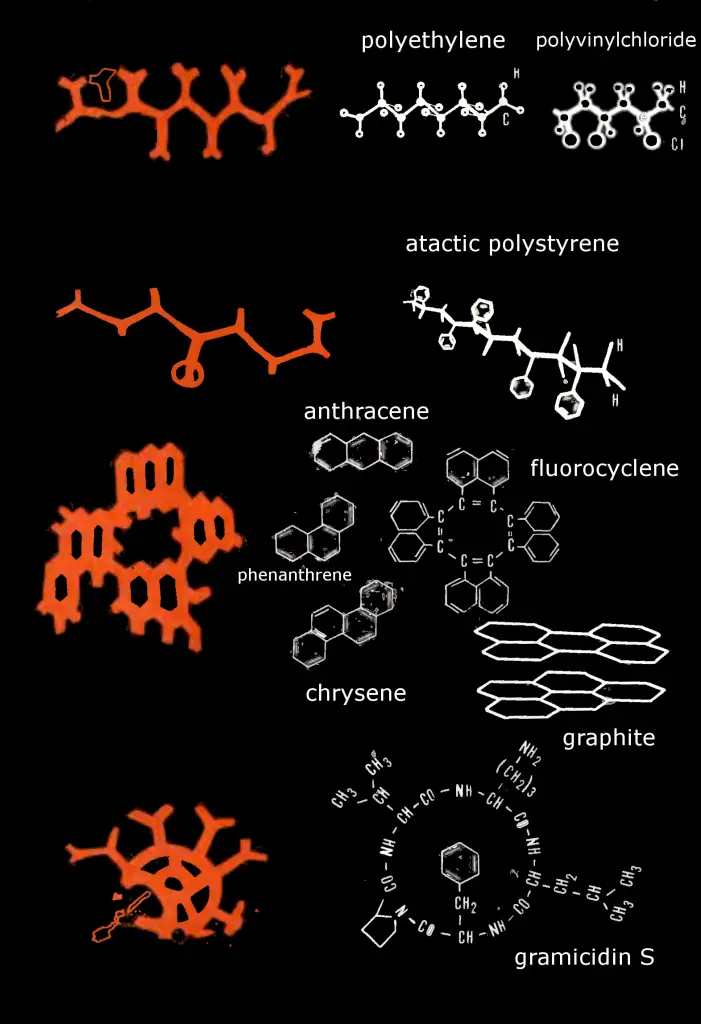 According to Russian researcher Vladimir Avinsky, ancient pictograms discovered in caves in the Ural Region of Russia show advanced chemical symbols. Symbols that could not have been known to humans at the time. Avinsky believes that among the paintings are the chemical structure of compounds including fluorocyclene, atactic polystyrene and graphite.
Cave paintings from the Camonica Valley of North East Italy dating back more than 3000 years seem to depict tall figures wearing helmets that resemble modern day astronauts. Similar paintings exist in other locations including the Kimberley region of Western Australia. Are these paintings of mythical spirit beings? Perhaps Gods? Or are they of Alien visitors from the sky?
Sumeria and Mesopotamia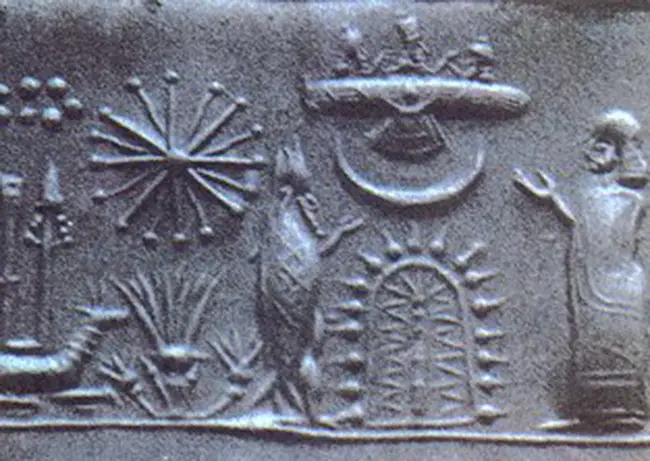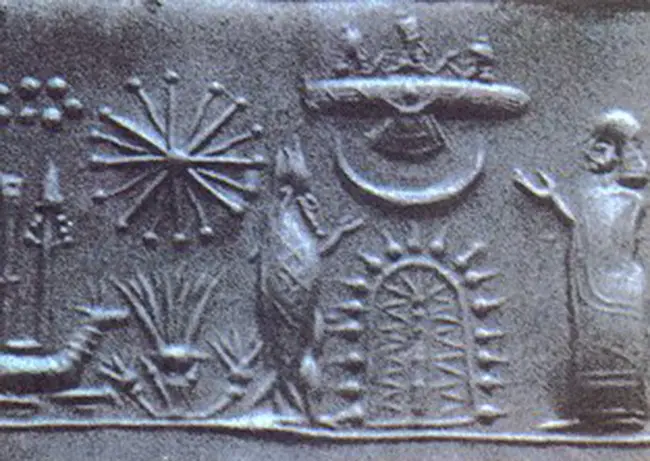 Author of The Earth Chronicles, Zecharia Sitchin believed that several ancient sumerian texts provided evidence that the Gods of Mesopotamia were actually aliens known as Anunnaki from the planet Nibiru. According to Sitchin, The Anunnaki first landed on Earth some 400 000 years ago. They were sent to Earth to mine gold but soon became complacent with their menial tasks and began to genetically engineer a race of labourers – homo sapiens or modern man. Sitchin claimed that the ancient texts described how the Anunnaki were actively involved in human affairs, and that the civilizations of Sumer and Mesopotamia were guided by this alien race who humans worshipped as gods. According to Sitchin the Anunnaki's civilization was destroyed during the last ice age some 12 000 years ago but before the survivors left Earth, they gave humans a ways and means to govern themselves.
With so many accounts of strange beings and mysterious flying craft it's hard to deny the possibility. What do you think? Were ancient civilizations visited by Aliens?