Join us as we travel back in time to the stone age to take a look at 5 quick Far Cry Primal facts plus mini review!
[embedyt] http://www.youtube.com/watch?v=QZ7V86psOW0[/embedyt]
5. This is a big departure for the Far Cry series – Starting back in 2004 the Far Cry series has seen players take control of a wide range of characters from ex-special forces to an American bro-dude tourist. They've travelled to stunning locations like Micronesia, Africa and the Himalayas. Now, players are being taken way back to 10,000 BCE to one of man's most brutal time periods – the Stone Age.
4. How did Far Cry Primal land in the Stone Age?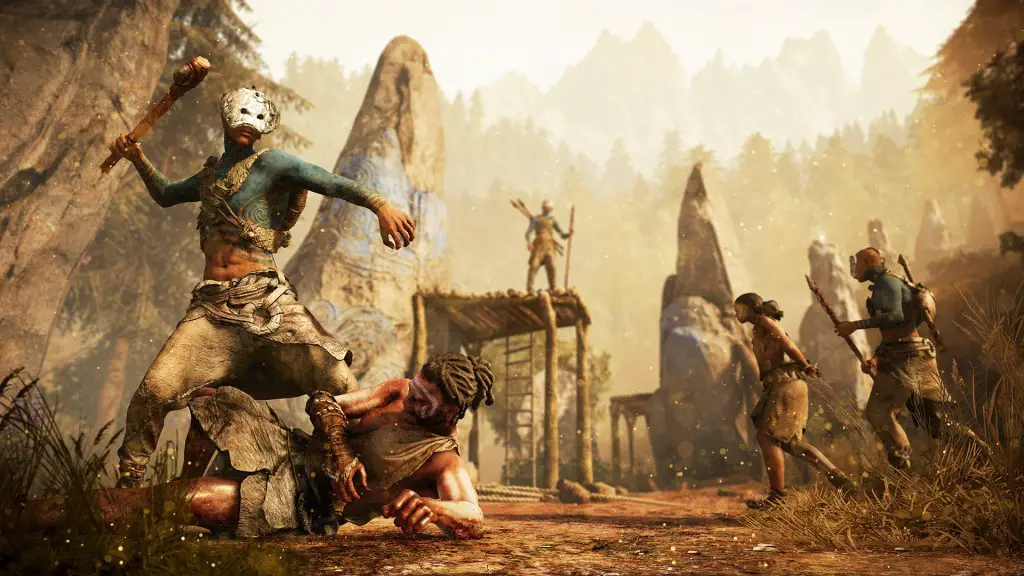 On January 5th, 2015 Ubisoft released a survey to a select few players asking what their preferred setting for a new Far Cry game would be. The survey had an eclectic mix of locations and ideas like a futuristic setting on another planet, fighting through the cocaine trafficking jungles of Peru, there were questions about vampires and zombies, the possibility of a sequel to Blood Dragon and even a Jurassic Park style island filled with dinosaurs which is sort of the closest theme to what was finally decided on. And so, one can only assume all the data was compiled concluding that smashing beasties with wooden clubs was the way forward.
3. No Scheduled DLC – Interestingly Ubisoft seemed to have bucked the trend and foregone the usually tacked on season pass that we see so often with triple A titles. Normally gamers are baited, pre-launch, with shiny downloadable content that is drip fed over a year at an extra cost. It's standard practice with shooters these days and we've seen it with previous Ubisoft franchises like Assassin's Creed. Are they really making a change or could it be that Far Cry Primal doesn't have the legs for DLC?
2. Recycled Map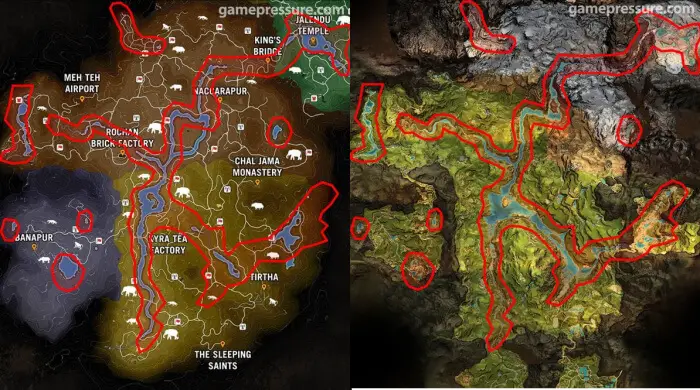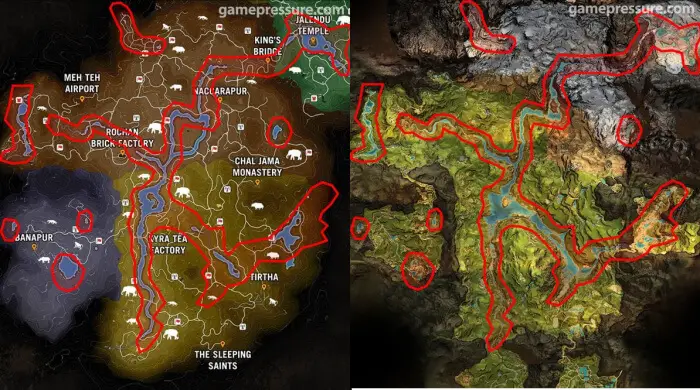 It would appear that the map of Far Cry Primal and Far Cry 4 are almost identical. Polish gaming site, Grynieznane.pl, created an image showing the two maps side-by-side. It's clear that the lay of the land and key features such as rivers and mountains have been rehashed. It would make sense if Ubisoft set the two games in the same area just 12,000 years apart but the opening to Far Cry Primal clearly says it's based in central Europe and not the Himalayas as is the setting for Far Cry 4.
1. Breathing life into an ancient language – The team behind Far Cry Primal set out to re-create a long forgotten dialect called Proto-Indo-European. It's the common ancestor of modern European language. Consulting with linguistic experts from the University of Kentucky, they managed to resurrect not only an ancient language but three unique dialects of that language representing the three tribes in Primal – Wenja, Udam and Izila.
Mini Review
The ups: It was a lot of fun playing as primitive man. Stalking through the fertile lands of Oros, hunting beasties and whopping dudes with clubs is a very satisfying experience. It's refreshing playing in a natural setting, no advanced technology, no magic, no mythical creatures – just you, nature and some sharp stuff to hunt with.
The graphics are worth mentioning too. The textures and shading. The sheer amount of on-screen stuff is impressive. The individual blades of grass, the ferns, the wildlife – ah lovely.
The downs: What you get is fairly bare bones. The story is simple. 'Hey he hurt our tribe, let's get revenge'.
While the core gameplay of smashing things is satisfying it can get repetitive quickly. You'll be mostly taking over enemy guarded bases, leveling a basic tech-tree and collecting a lot flowers and bits of wood for crafting.
I give this six and a half hams out of ten.
Well that's it for our 5 Far Cry Primal Facts and mini review. This is something a little different for us, so let us know in the comments section whether you enjoyed it or not. If you did, then we might add it as some bonus content during the week between our main listicle videos.
Quick thank you to Ubisoft and Octoly for letting us get our piglet hooves on this game.
—
So there's our top 5 list on Far Cry: Primal. Did this video game listicle tickle your interest? Let us know on Twitter and Facebook.