5. Make Out Pillow
This one's more for those who'll be alone this Valentine's day. Created by designer Emily King, this 'let's make out' pillow is designed for people to practice kissing. The idea came to her in middle school when people would mention that they practiced kissing a pillow. And so, these soulless couch ornaments were born, ready for you to pucker up at a moments notice.
Now when Steve says he won't come out for beers this weekend, you probably know why.
4. Anything from 1800-flowers
When you order the left from @1800flowers and the right shows up to your wife's workplace. pic.twitter.com/qiuN6VUXOL

— Jeremey Rodriguez (@mountaingoat99) February 15, 2015
On Valentine's day 2015 a ton of upset customers Tweeted photos of what they had received from 1800-flowers. It ranged from bouquets of dead flowers to gifts not showing up at all. The poor florist's social media team was inundated with customer complaints.
Is it really the thought that counts or do shitty, dead flowers create too much of a glaring metaphor for your doomed relationship?
Here's some of 1800-flowers finest work:
@1800flowers sent my sister DEAD & ROTTED flowers this year. Thanks for ruining a special day! pic.twitter.com/Djynbjku8q

— Jena Nieves (@NievesJena) February 14, 2015
@1800flowers thanks for ruining my valentine's day! pic.twitter.com/G5eOaEHCFo

— kasey doeing (@kaseydtweets) February 14, 2015
@1800flowers it's the thought that counts right? New pitch line for #1800flowers. pic.twitter.com/7lGbZHi4Z4

— Jim szumlaski (@Zoomer112us) February 15, 2015
3. Make Me Babies
Perhaps if you and your partner are celebrating your first Valentine's day, you might want to give this a miss. MakeMeBabies.com allows you to upload a photo of you and your partner to see what your babies might look like. Finally through the miracles of modern science you can gaze at the face of your unborn child.
Nothing says love like a loudly ticking biological clock.
For the sake of empirical research we couldn't help but plug in some photos. Meet little baby Connor. The offspring of Oprah and a steamed dim sim:
2. Karma Sutra Cookies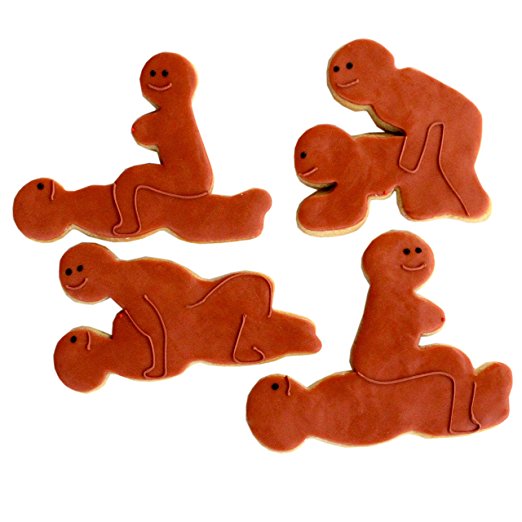 This Valentine's day give your lover a subtle edible hint as to what you really want this year.
Made by a company called Sweet Sanctions, this 'Naughty Cookie Box' as it's known, comes in a set of four cookies. Each cookie shows off some wild bedroom acrobatics. According to their Amazon listing, the cookies come in colours ranging from light, medium, dark and even 'interracial flesh tone'.
The sugar from these ultra-sweet treats isn't the only thing that will get your pulse racing this Valentine's day.
If you're keen to try these amorous cookies, you can get them on Amazon here.
1. Edible Anus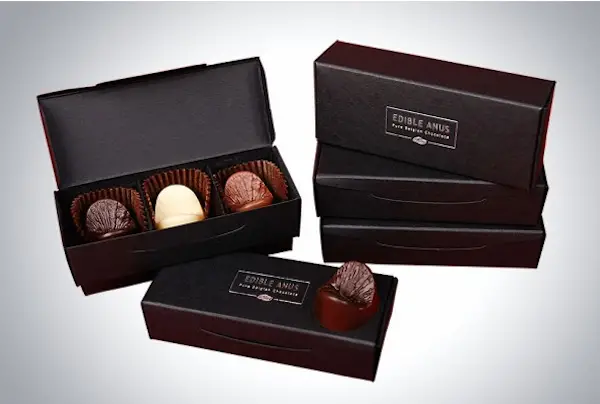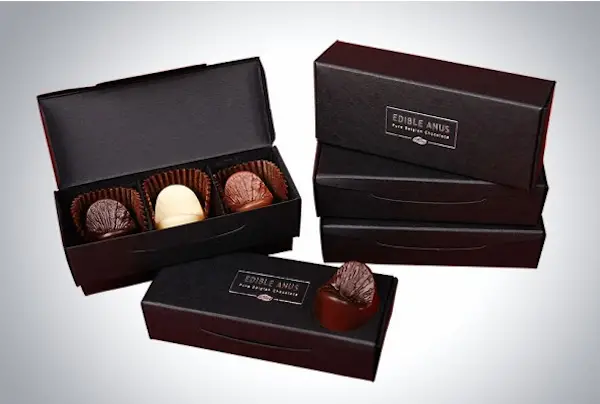 Chocolate is no stranger on Valentine's day but what about a chocolate mold of someone's anus?
From the kooky mind of inventor Magnus Irvin, comes the edible anus. A sweet chocolate treat set in the mold of an anus. For a tidy fee of US$38.95 the company will send five boxes of milk chocolate brown eyes for you and your lover to devour.
If you're feeling even more adventurous you can have your own anus set in bronze. For just US$1,900 Irvin himself will create a mold of your very own bottom bulls-eye which will be turned into an immaculate bronze ornament.
—
So there's our list of the 10 worst Valentine's day gifts ever. Did this listicle make you feel good or bad about being single? Let us know on Twitter and Facebook.