Monty Python's Spamalot
The Spamalot slot caused a bit of controversy when first released as many fans thought the Monty Python team had sold out lending their name to a gambling product. But as it turns out the legendary comedy crew had nothing to do with it. Amusingly, John Cleese cleared the air with a Tweet saying: 'Dear Twits, please understand that Python has no control over Spamalot activities. They pay us royalties for using the Grail script. That's it.'
The machine itself is pretty standard Spamalot fare with songs from the musical, animations, bizarre flying cows and a cameo from the knights that say 'Ni'.
Cash n Curry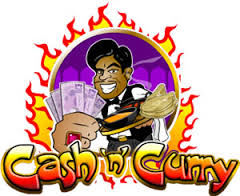 Yes, I know what you're thinking, finally, the curry themed slot machine we've all been waiting for. This stroke of genius comes from Microgaming. Cash and Curry is all about lining up chillies, limes and pappadums on the reels. With some luck, you'll get to play the bonus game that has you frantically lining up a combo of chicken baltis. Get three baltis in a row on the famous balti rack and bam – winner, winner, curry chicken dinner!
Obama Slots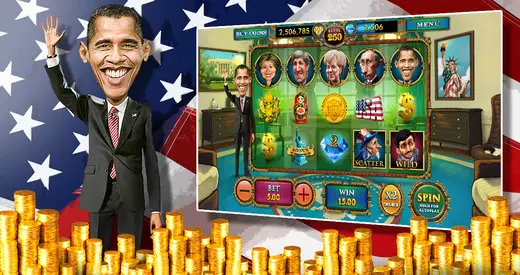 That's right, a president Obama themed slot machine. What's more patriotic than gambling away your life's savings in the company of your nation's leader? The reels sport famous bygone presidents like Lincoln, Kennedy and Washington. There's nothing quite like getting a payout after lining up three George Bushes to put food on the table.
40 Shades of Santa


When you think of something erotic, does Santa come to mind? Well for some reason the creatives over at Paddy Power, the company who made this bizarre slot machine, thought a mash up of 50 Shades of Grey and Santa Claus would make for a tempting mix. We're talking a sadomasochistic, jolly old fat man with a gambling problem. The images on the reels of this machine are lips, handcuffs, masks and a sexualised misses Claus.
What will Santa bring this Christmas? Most likely looming debt and a dildo.
Bible Slots
You know when you're sitting in the casino gambling away and you just wish you were also learning about the bible? Well, bible slots solves all that. Forget all that Timothy 6:10 business about the love of money being the root of all evil, now you can bask in the warm, video slot glow of our lord and saviour Jesus Christ. As you gamble away your family's savings, all is forgiven, for now you're learning about God and the wonderful bonus multipliers he can bestow upon you.
—
So there's our top 10's list of the weirdest slot machines ever made. Did this listicle inspire you to gamble away a fortune? Let us know on our Twitter and Facebook.