5. Trust Me I'm A Doctor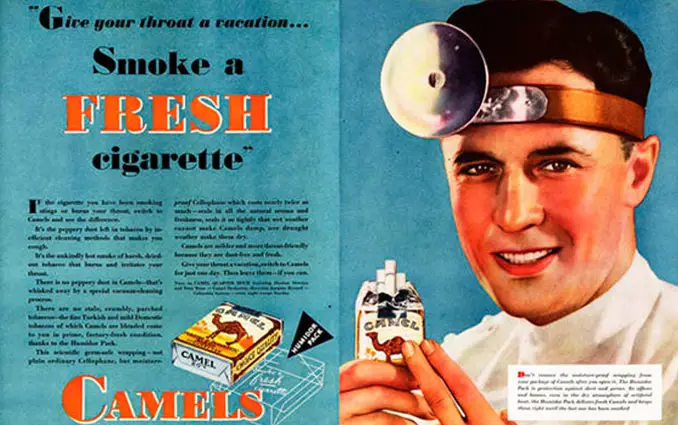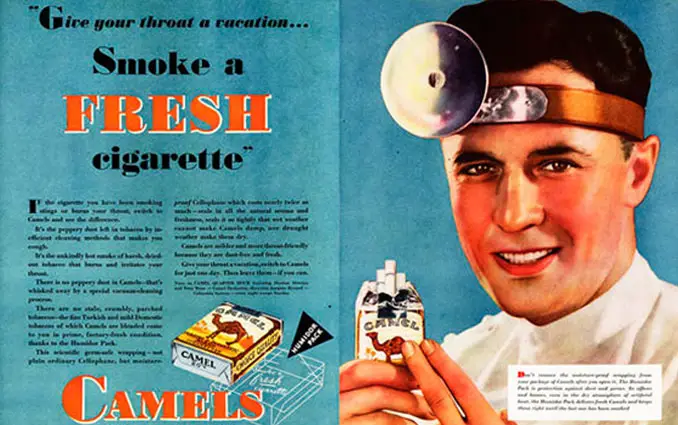 This 1931 advertisement for Camel cigarettes used the reassuring image of a doctor to sell its product. The ad claimed that it was the peppery dust found in other cigarettes that made you cough and irritated your throat. Luckily Camel had invented a 'special vacuum-cleaning process' that got rid of this imaginary dust so if you wanted to 'give your throat a vacation…' you simply needed to 'Smoke a fresh cigarette.' The ad even talked up the addictive qualities of nicotine by saying 'switch to Camel's for just one day. Then leave them – if you can.'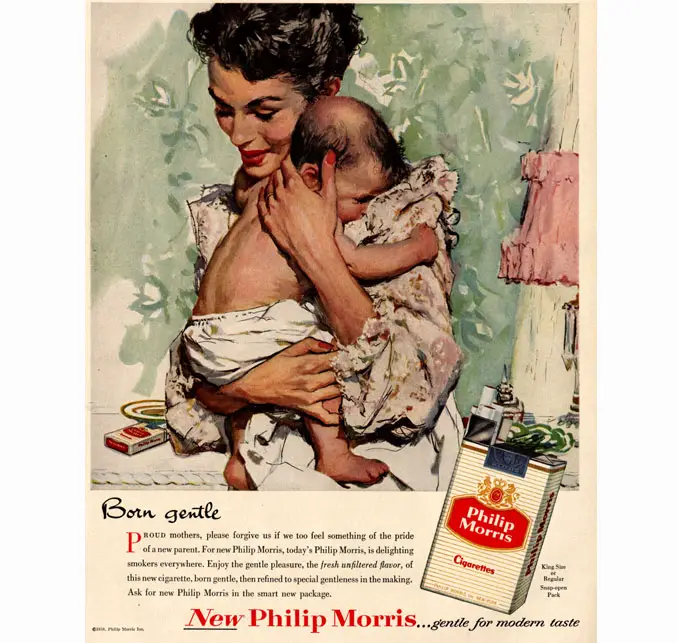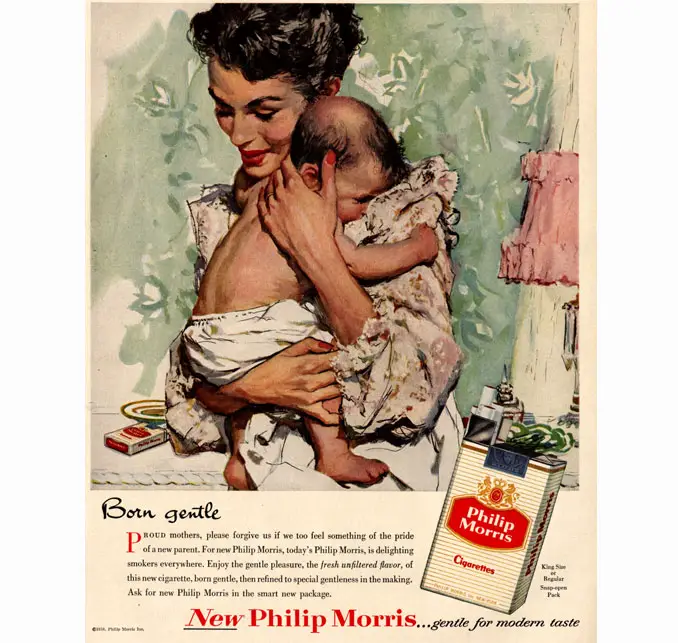 Just when you thought it couldn't get any worse, the marketing mad men over at Philip Morris managed to find a way – by comparing the gentleness of their cigarettes to that of a new born baby! Philip Morris, clearly targeting new mothers with this ad campaign, ask that they be forgiven for feeling the pride of a new parent. Why? Because their cigarettes are 'born gentle' just like your little bouncing bub.
4. Childproof Revolvers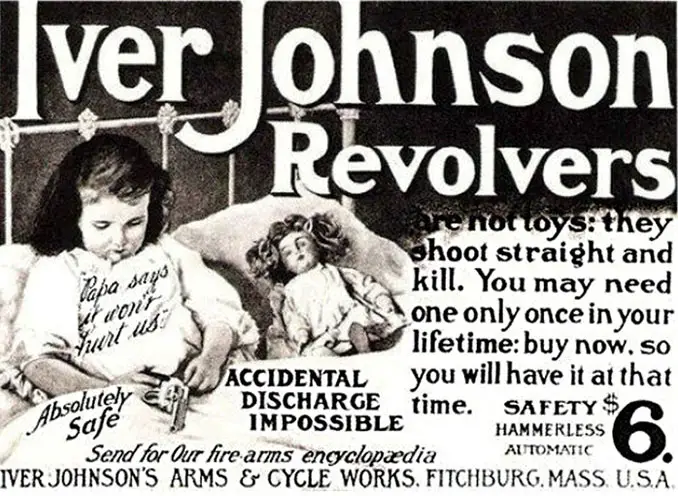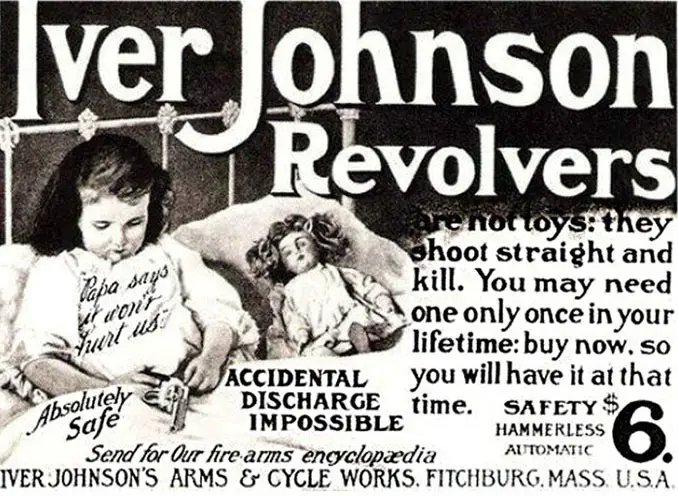 Today it is impossible to imagine how a gun manufacturer could attempt to sell you the benefits of their product the way this one from the early 1900's did. This ad for Iver Johnson Revolvers reassured its customers that their guns were so safe, it was fine to let your daughter play with them in bed. Yet the ad mentions that their guns 'are not toys:' and 'they shoot straight and kill.' It then goes on to mention that 'you may need one (of their guns) only once in your lifetime: buy now, so you will have it at that time.' So basically they're saying it's likely everyone is going to need to kill someone once in their life, so make sure you do it with an Iver Johnson Revolver. Genius!
3. Sexism Sells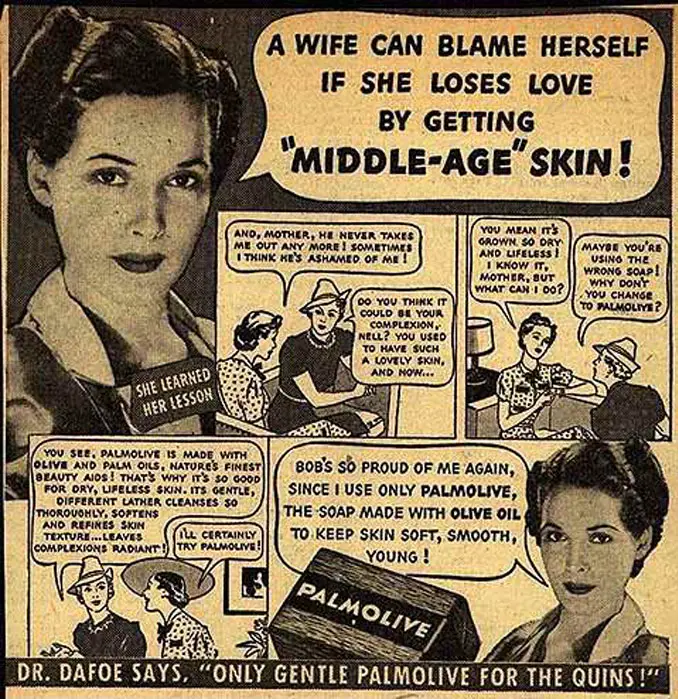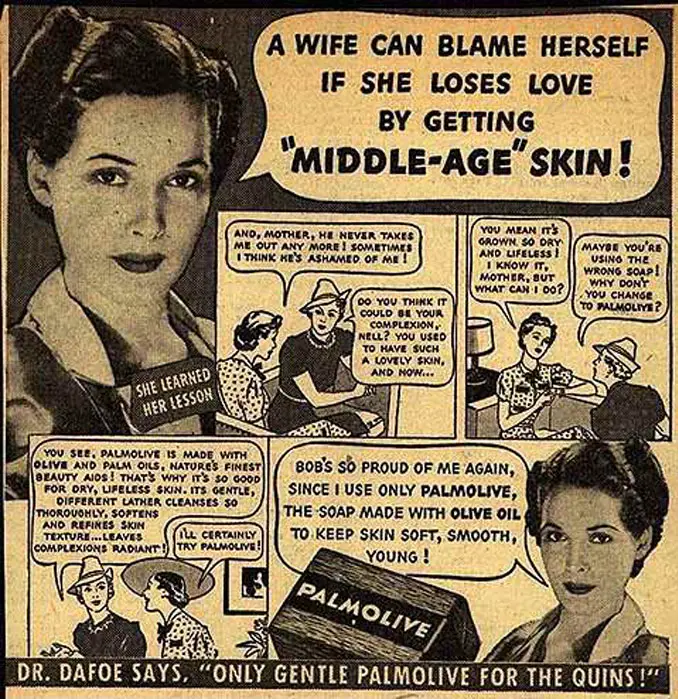 This comic strip style ad of a young married woman talking to her mother suggested that the reason her husband doesn't love her anymore is because she has developed…MIDDLE AGE SKIN! Well of course you're going to get middle age skin if your washing dishes all day! Right? The Solution? Switch to Palmolive for their blend of palm and olive oils 'nature's finest beauty aids!' Luckily for this young woman the crisis of middle aged skin was averted simply by switching to Palmolive soap. Now Bob can finally be proud of his wife again.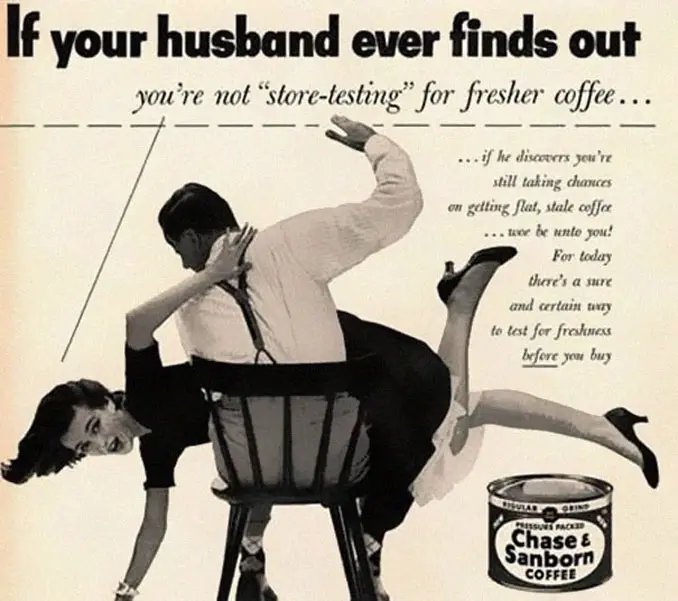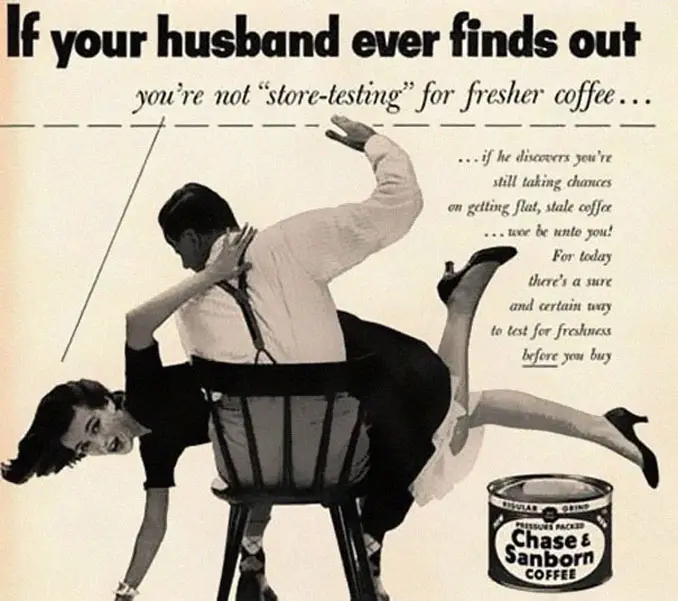 Just when you thought ads couldn't get any more sexist this gem from the 1950's came along. The ad for Chase & Sanborn coffee suggests that any wife who buys coffee that isn't fresh can expect a beating from her caffeine addicted husband when she gets home.
2. Crazy Inventions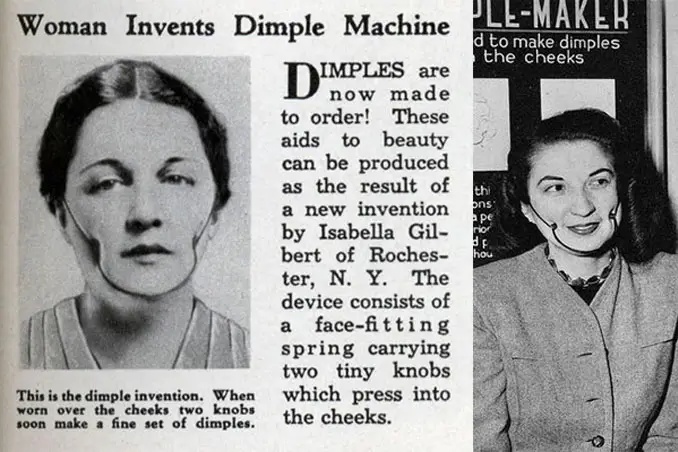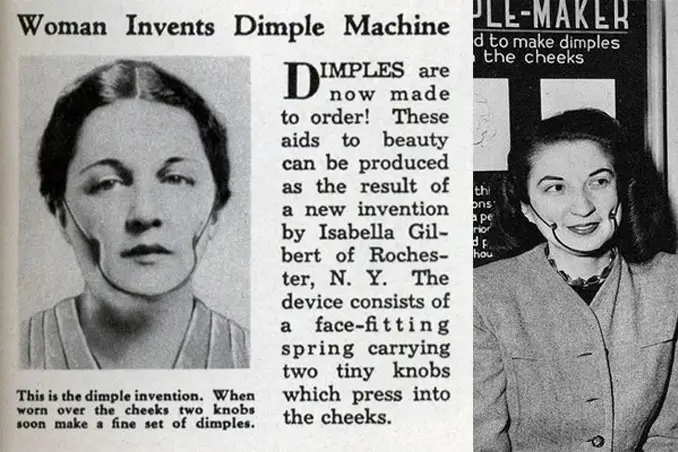 Take a look at this ridiculous invention! The dimple machine created by Isabella Gilbert of Rochester, New York. There is even a photo in the ad, presumably of the inventor or a product model wearing the device in public! Who would do that?
So if you were a skinny woman with middle aged skin who couldn't afford fat pills or Palmolive soap, maybe you could fashion one of these things out of some old fencing wire. Surely if you were sporting a set of cute-as-can-be dimples you could finally win the approval of a man?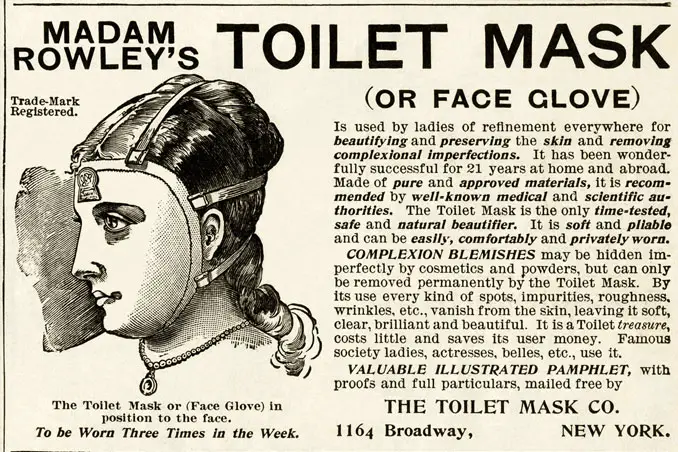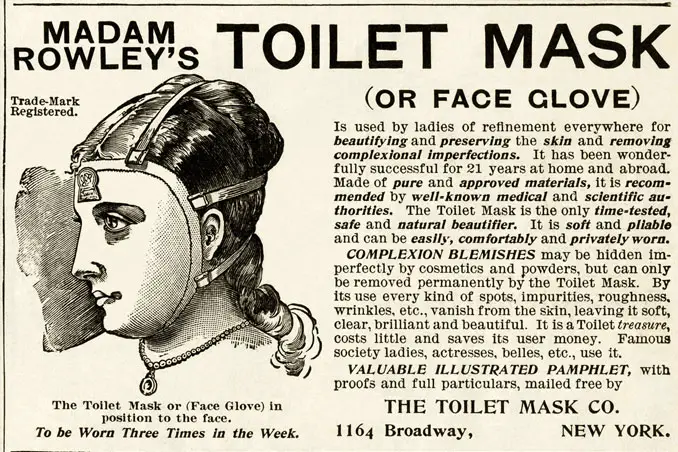 Just when you thought the crazy inventions and ridiculous advertisements couldn't get any worse along comes… the Face Glove! 'Recommended by well-known medical and scientific authorities' The Face Glove also known as the Toilet Mask made some pretty big claims including being able to permanently remove skin impurities, roughness and yes, even wrinkles!
1. Creepy Eye Salve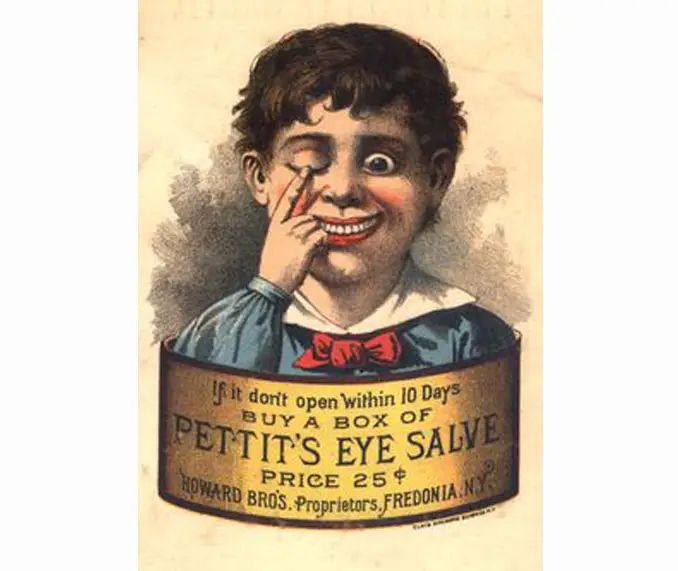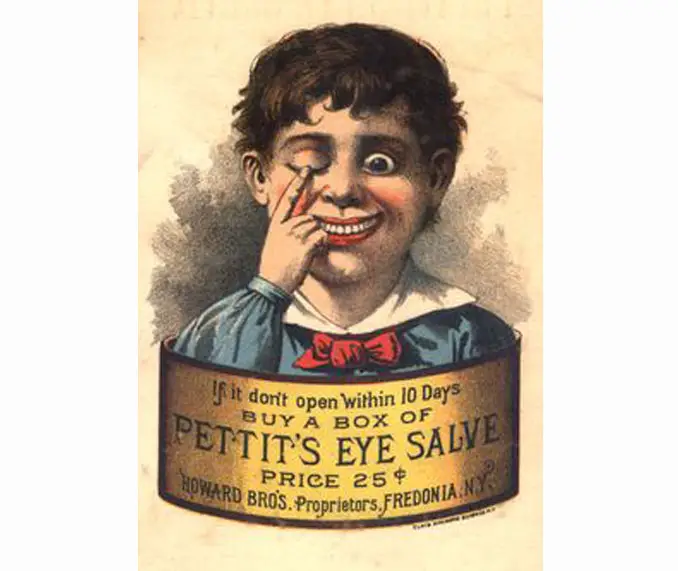 This creepy advertisement from the late 1800's is the stuff of nightmares! The ad claims that 'if (your eye's don't) open within 10 days,' it's time to 'buy a box of Pettit's Eye Salve.' If your eyes don't open for 10 days how do they expect you to buy a jar of salve? What if you picked up some chilli paste and smeared that on your eyeballs by mistake? But seriously, if your eyes don't open for 10 days there might be more important things to do before buying a tin of eye salve like visiting a doctor perhaps!?
That was 10 shocking vintage ads you have to see to believe. Some of the craziest, creepiest and funniest advertisements from the past. What do you think? Which was your favourite?