From an advertisement for cocaine toothache drops to an ad showing a baby drinking 7Up we take a look at 10 shocking vintage ads you have to see to believe!
[embedyt] https://www.youtube.com/watch?v=buBCzAcnp5E[/embedyt]
10. Cocaine Drops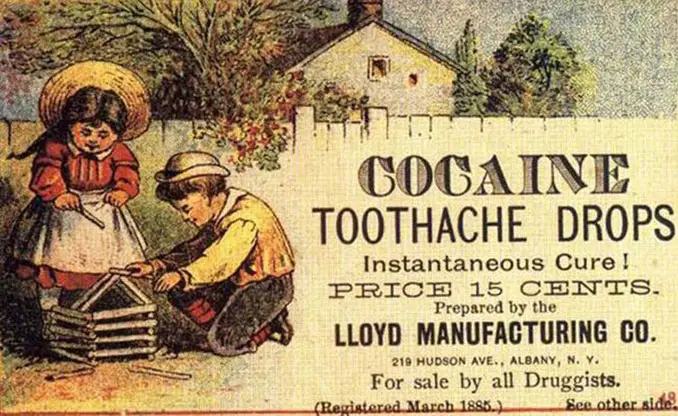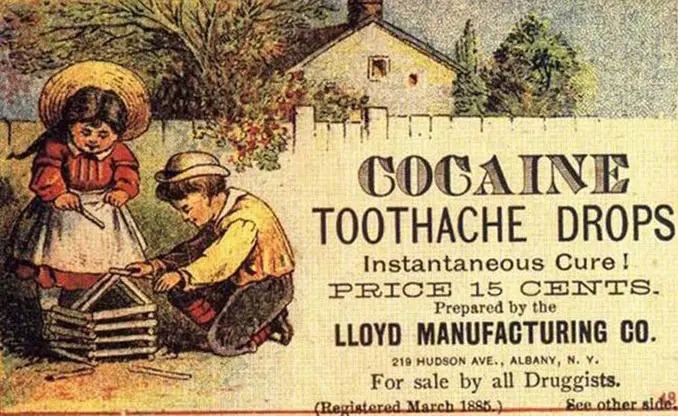 In the 1870's medical doctors were experimenting with cocaine as an anaesthetic. Soon after, the dental profession were using the substance to numb patient's gums before tooth extractions. This advertisement from the mid 1880's boasted that cocaine drops, patented by the pharmacist Charles E. Lloyd and S. Dexter Pilsbury, were an 'instantaneous cure' for childhood toothaches. Imagine taking your child to the dentist for a toothache today and coming home with a bottle of liquid cocaine!?
Their company also made a product called 'Dr.Lodewick Burdick's celebrated Kidney Cure that claimed to be a cure for all diseases of the kidneys, liver, bladder and urinary organs'.
9. Chill Tonic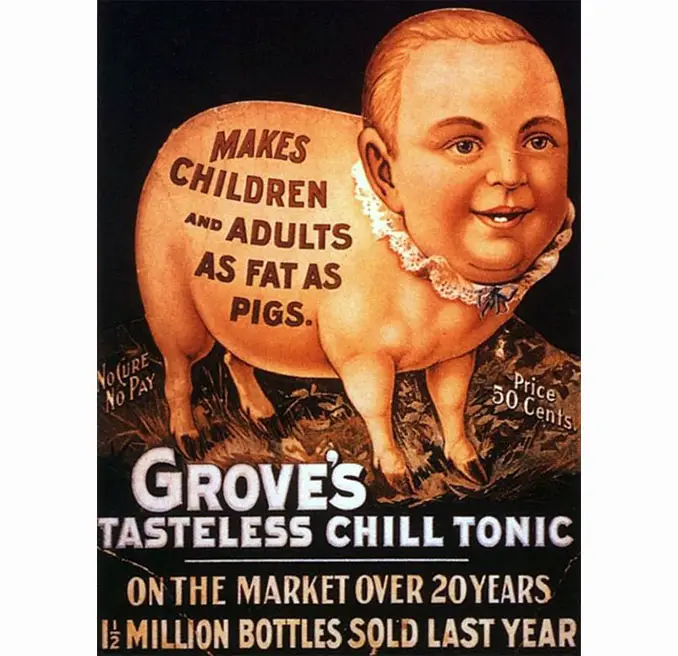 Despite the look of the label, Grove's Tasteless Chill Tonic was not a weight gain supplement nor was it a magic potion that could turn people into hideous hybrid pig creatures. It was in fact, a preventative for malaria. The tonic made inventor Edwin Wiley Grove a millionaire and by 1890 there were more bottles of Grove's Tasteless Chill Tonic sold than bottles of Coca Cola! Grove had discovered a way to suspend the very bitter tasting malaria medication quinine, in a liquid that claimed to be tasteless.
If this product was still around today I don't think the ad campaign would be quite as effective. First, you would need to lose that ultra-creepy label, oh and also stop telling customers that your product will make 'children and adults as fat as pigs'.
8. Fat Pills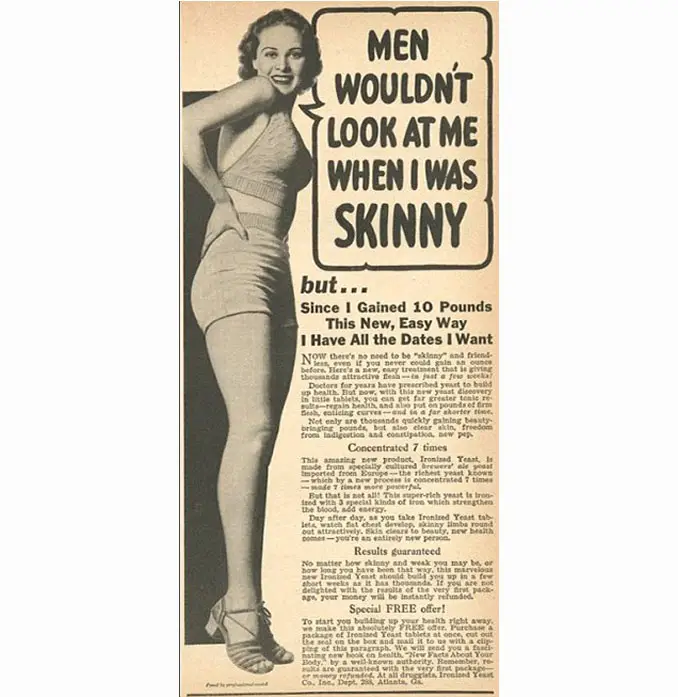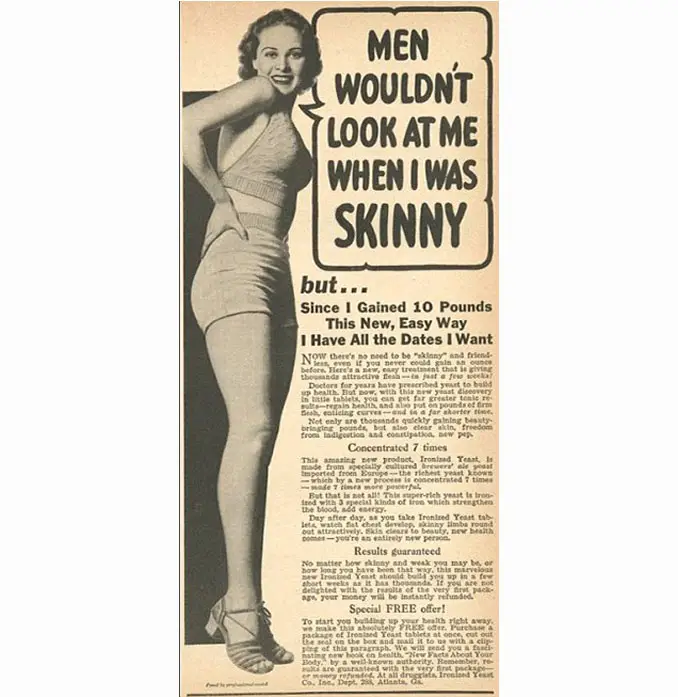 These ads published in magazines between the 1930's – 1960's don't exactly claim that their products can make you as fat as a pig but they are not far off. Back in the mid 1900's it was considered unattractive to be too thin so these companies developed a product that would be laughed at today – weight gain pills!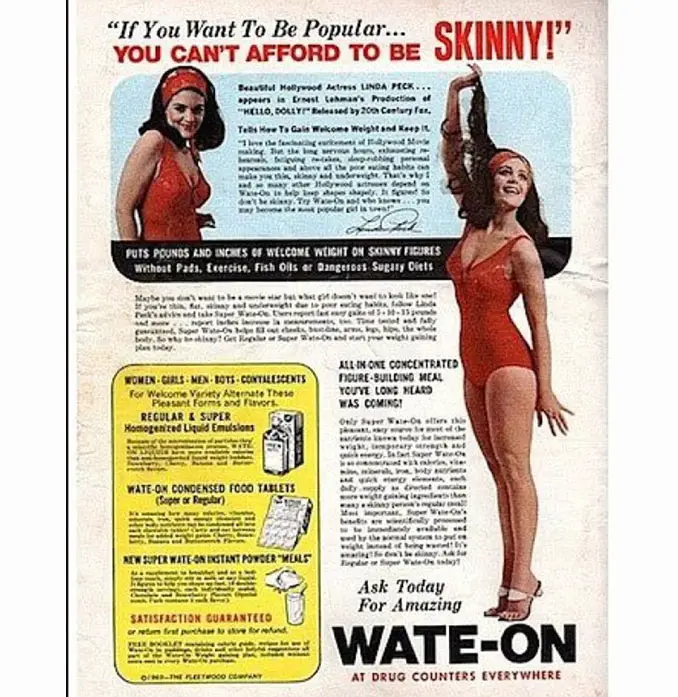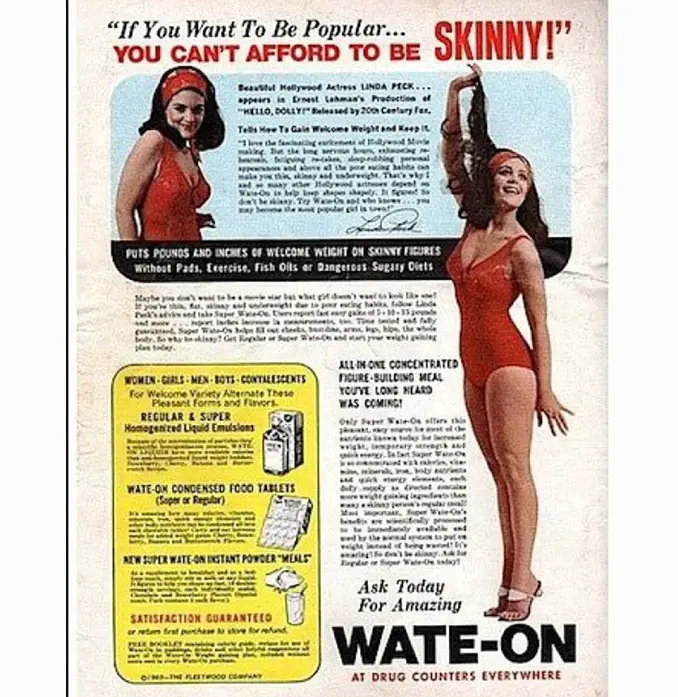 Made from a range of things including ironized yeast and iodine these pills actually claimed that they could make you gain '5 pounds of solid flesh in 1 week… or no cost!'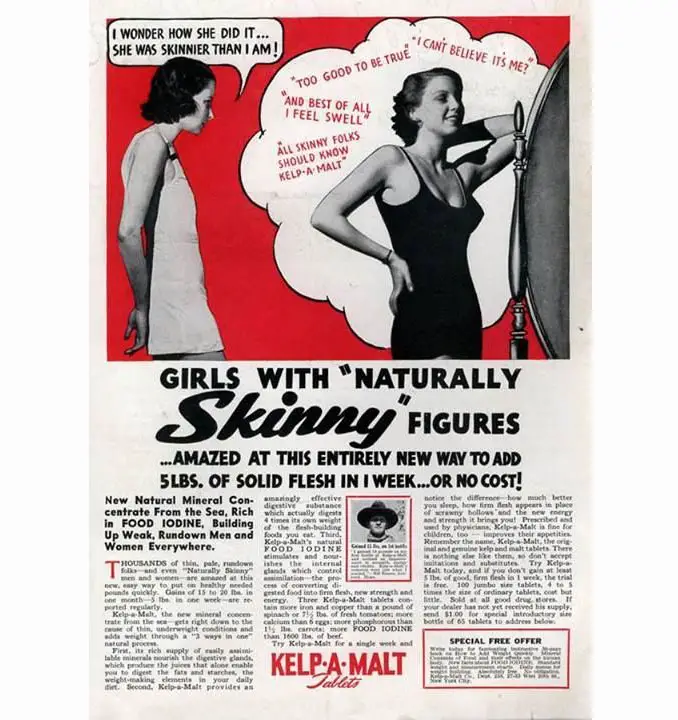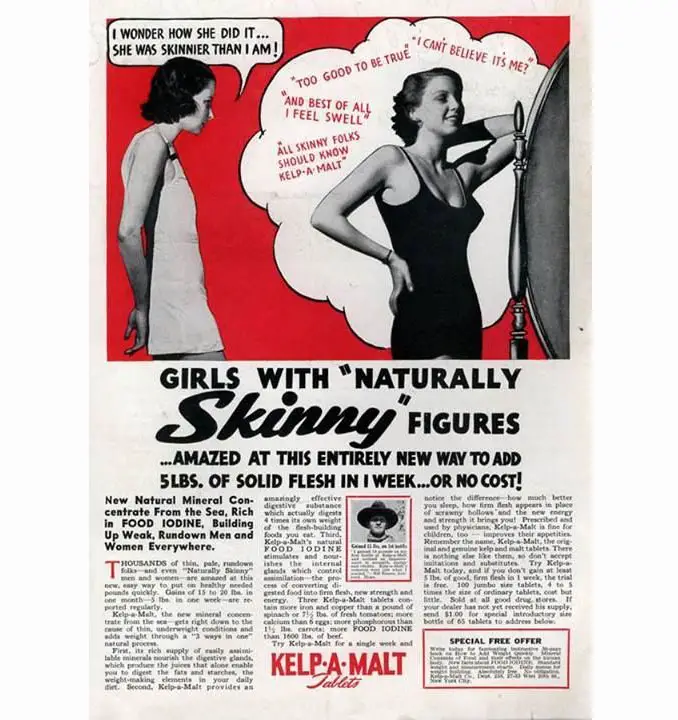 With headings like 'Men wouldn't look at me when I was skinny' and 'If you want to be popular… you can't afford to be skinny!' teen girls of today would be mortified if they came across an ad for these pills while flipping through their latest issue of Teen Vogue!
7. Soda Babies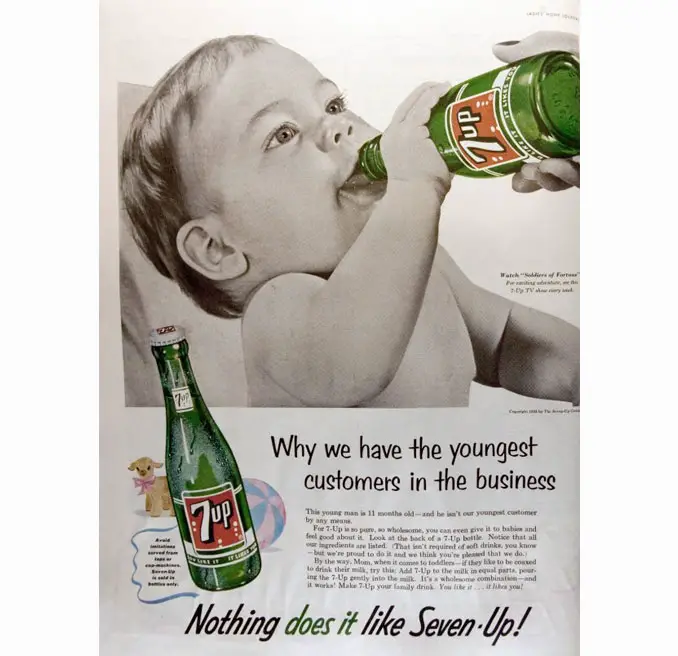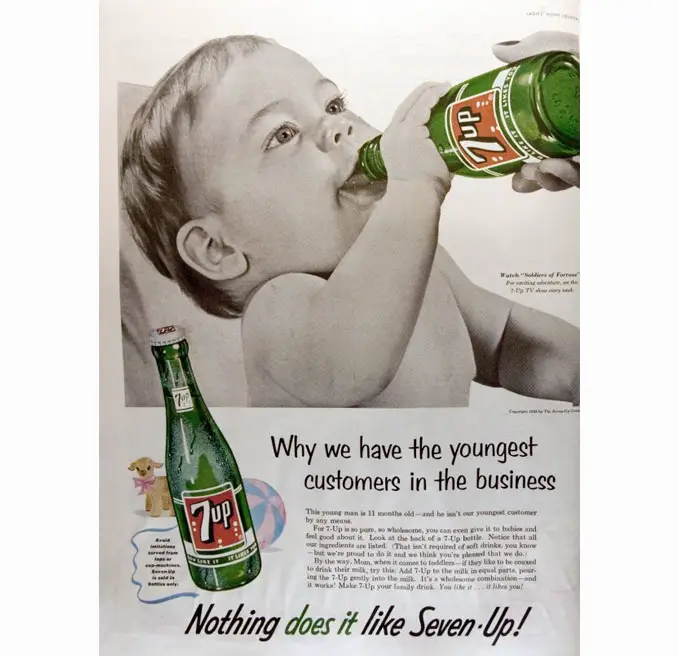 This ad from the 1950's was a not so subtle attempt by soft drink manufacturer 7Up to get babies to drink their product! Boasting that they 'have the youngest customers in the business,' the 7Up ad read '…so pure, so wholesome, you can even give it to babies and feel good about it'. The ad also included an ingenious way to get toddlers to drink their milk – pour 7Up in it! The ad says '…if they like to be coaxed to drink their milk, try this: Add 7Up to the milk in equal parts, pouring the 7Up gently into the milk. It's a wholesome combination and it works! Make 7Up your family drink'.
6. Toilet Troubles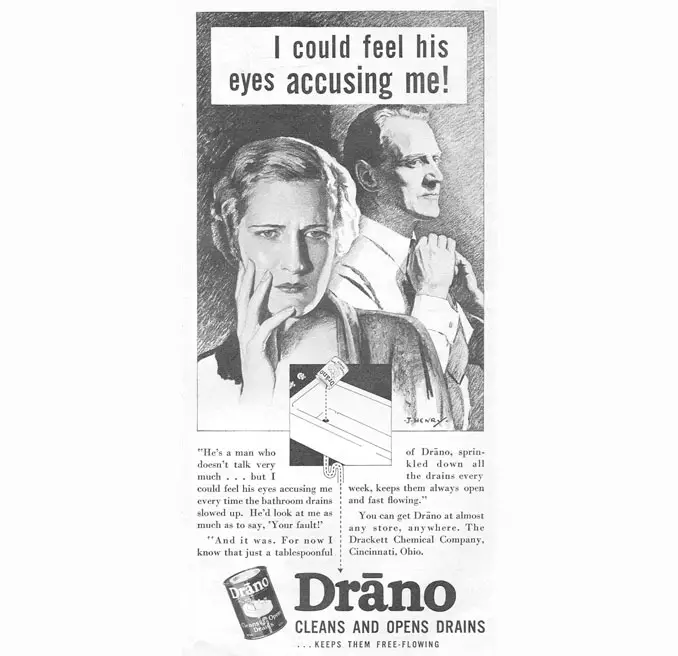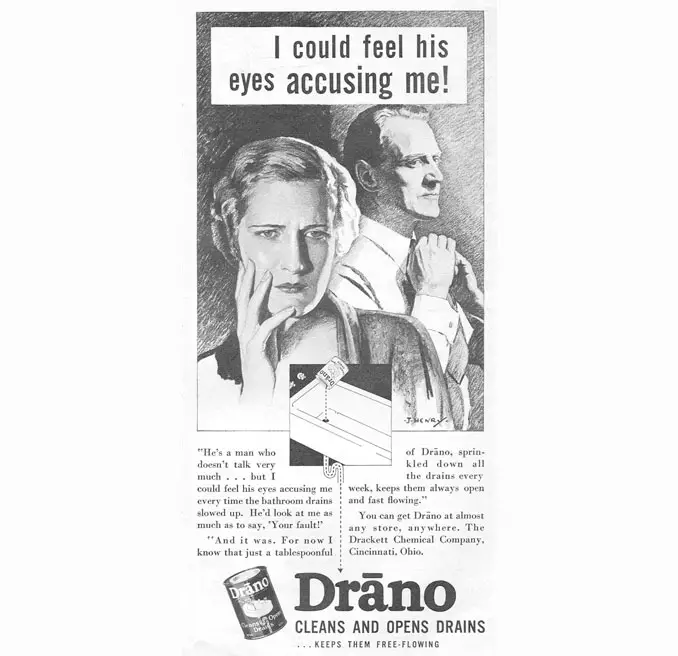 Bowel movements can be a tricky subject but used correctly make for a very compelling ad, apparently. This vintage gem for the drain cleaner Drano used that awkward 'I just clogged the toilet' feeling to successfully sell their product. In this ad, a wife can feel her husband's eyes accusing her of jamming the drains. 'He'd look at me as if to say, "Your fault!" And it was.'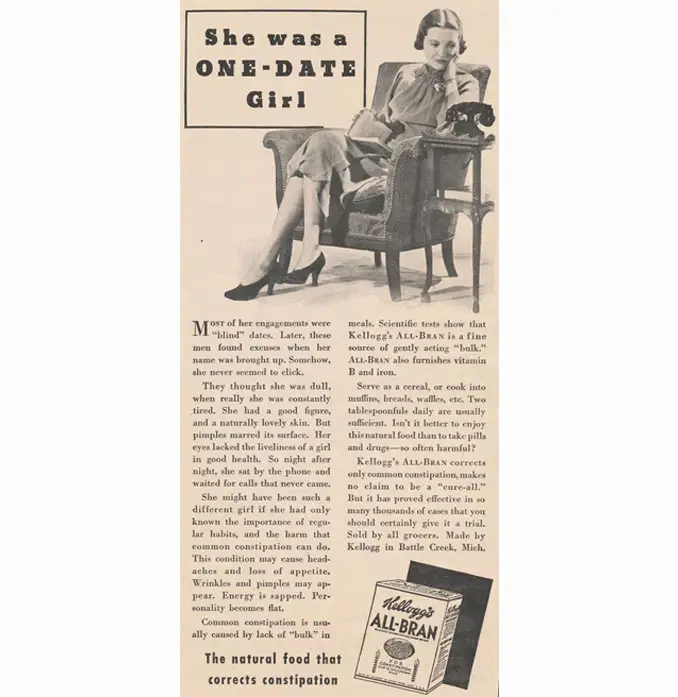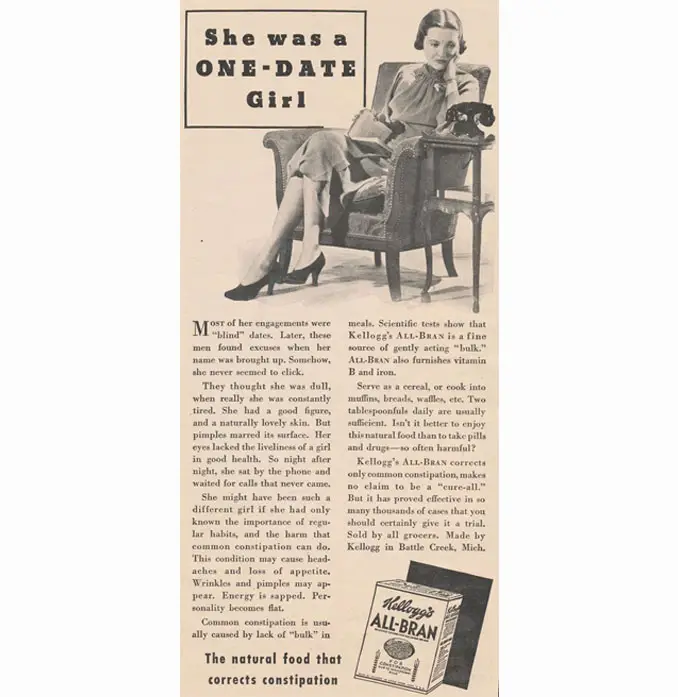 This ad for Kellogg's All Bran used fear as their selling tactic. Fear of never getting a man. Why? Because you are constipated of course! And as a result you will sit night after night by the phone waiting for calls that never come because your constipation is making you dull and giving you wrinkles. Yes! This ad actually claimed that constipation can cause wrinkles! No wonder nobody wants to take you out!
Continue Reading On Next Page: