He's the larger than life billionaire that has taken politics by storm. From his strange morning habits to avoiding the Vietnam draft, join us as we delve into the bizarre world of Donald Trump.
10. Teetotaller Trump – Believe it or not, billionaire Donald Trump doesn't drink alcohol and has never smoked a cigarette or done drugs of any kind. His older brother Fred Trump Jnr was an alcoholic and ultimately died from alcoholism at the age of 42. Donald Trump said that the death of his brother had a tremendous impact, attributing his sober lifestyle to his brother's passing.
9. Trump Super Premium Vodka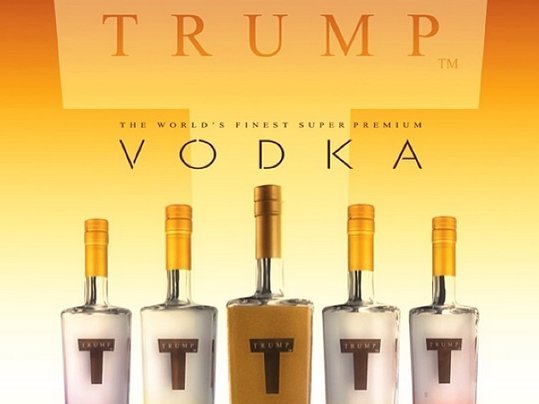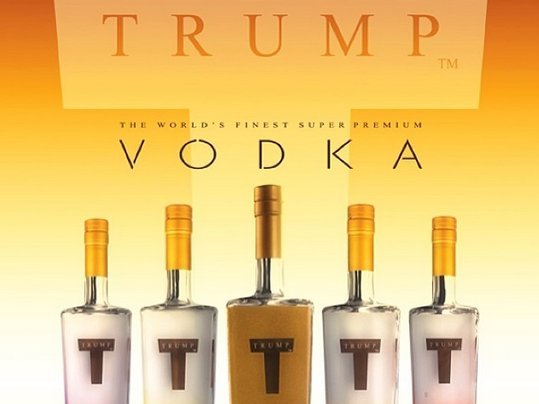 Despite not drinking alcohol, Donald Trump thought he'd try his hand at making high end vodka. Released in 2006 with the slogan 'success distilled' it was pitched as a competitor to market leader Grey Goose. However, production halted in 2011 due to poor sales.
8. Stunted His Own Growth – Donald Trump's current net worth is estimated to be US$4 billion, a 300% increase on the riches he inherited in 1987. However, according to the Associated Press if he had of invested his wealth in index funds back in 1988 his net worth today would be worth US$13 billion.
7. Big Mouth Tiny Words – Linguistics professor Mark Yoffe Liberman from the University of Pennsylvania decided to collate 13 favourite words used most often by Donald Trump in his political addresses. Twelve of the thirteen words are one and two syllable words that are very simple like 'money', 'you', 'me' and 'great'. Not surprisingly his favourite word is 'I' and his fourth favourite is 'Trump'. The only three syllable word that appears in the top 13 is 'Mexico'.
6. Four Separate Bankruptcies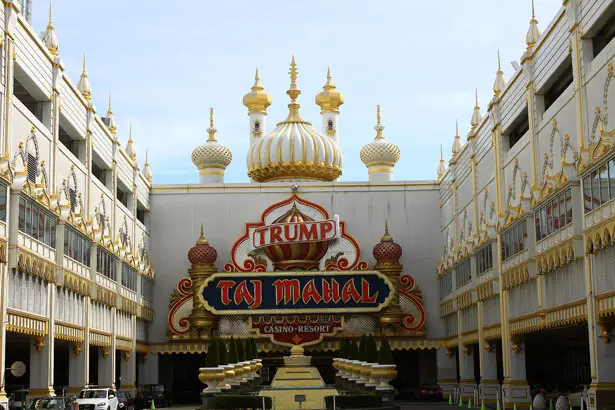 From 1991 to 2009 Trump filed for bankruptcy no less than four times. According to a 2011 article in Forbes magazine the four bankruptcies were the result of over-leveraged businesses. The collapsed entities included: Trump's Taj Mahal, Trump Plaza Hotel, Trump Hotels and Casino Resorts, and Trump Entertainment Resorts.
5. Bizarre Morning Habit – According to Business Insider, Donald Trump wakes up every morning around 6:00 am and reads through a prepared stack of newspaper clippings about himself. A personal assistant collects all mentions of Trump in the previous day's news and cuts them out, ready for Trumps perusal the following morning.
Trump has also been known to keep a compilation of career highlights on tape so he can watch himself succeed over and over.
4. Ruined An Airline – In 1988, Donald Trump ran a perfectly profitable airline into the ground. Eastern Air Shuttle had been running hourly flights between Boston, New York and Washington D.C for over 27 years until Trump took over and tried to give it a glitzy overhaul renaming it – Trump Shuttle. Within 4 years Donald Trump had to default on his loans and hand ownership of the company over to creditors.
3. Bizarre Tweets – In 2014 Donald Trump tweeted out offering President Barack Obama unlimited free golf on any of his courses as long as his resigned from presidency immediately. He also had a lot to say about the Robert Pattinson and Kristen Stewart breakup. He's a staunch anti-vaxxer and believes global warming is a hoax. He also claims to have never seen a thin person drink Diet Coke.
Enjoy:
If Obama resigns from office NOW, thereby doing a great service to the country—I will give him free lifetime golf at any one of my courses!

— Donald J. Trump (@realDonaldTrump) September 10, 2014
After Friday's Twilight release, I hope Robert Pattinson will not be seen in public with Kristen–she will cheat on him again!

— Donald J. Trump (@realDonaldTrump) November 13, 2012
Healthy young child goes to doctor, gets pumped with massive shot of many vaccines, doesn't feel good and changes – AUTISM. Many such cases!

— Donald J. Trump (@realDonaldTrump) March 28, 2014
This very expensive GLOBAL WARMING bullshit has got to stop. Our planet is freezing, record low temps,and our GW scientists are stuck in ice

— Donald J. Trump (@realDonaldTrump) January 2, 2014
I have never seen a thin person drinking Diet Coke.

— Donald J. Trump (@realDonaldTrump) October 14, 2012
2. Trump Avoided Vietnam Draft – In the late 60s as the Vietnam War raged on, Donald Trump avoided the draft by applying several student and medical deferments. Then in 1997 in an interview with Howard Stern, Trump talked about how avoiding sexually transmitted diseases while sleeping with numerous women during the 80s was like his own 'personal Vietnam'.
He also fired remarks at former POW, now senior Senator John McCain saying, 'He's not a war hero. He's a war hero because he was captured. I like people that weren't captured…'
1. Stubby Fingers – In 1988, Vanity Fair editor Graydon Carter wrote an article about Donald Trump for Spy magazine. In the article Carter mentioned Trump's unusual stubby fingers. The billionaire responded by sending images of his hands circled in gold sharpie to prove his fingers were of a normal size.
Carter said for the last 27 years he periodically receives images from Trump with the same gold sharpie circled around his fingers, trying to prove the average length of his digits. The last image Carter received from Trump was in June 2015 just prior to his announcement to run for presidency.
—
So there's our top 10 facts about Donald Trump. Did this listicle make you make you wanna go out and vote? Let us know on Twitter and Facebook.