5. No. 6 (Violet, Green and Red) by Mark Rothko
Painted in 1951 by Russian-American Abstract expressionist Mark Rothko, it typifies the artist's works from this period as seen by the expansive shapes and unfocused shades of colour.
On August 2014 this painting was purchased by Russian businessman Dmitry Rybolovlev through a private sale.
PRICE TAG: US$186 million
4. Number 17 A by Jackson Pollock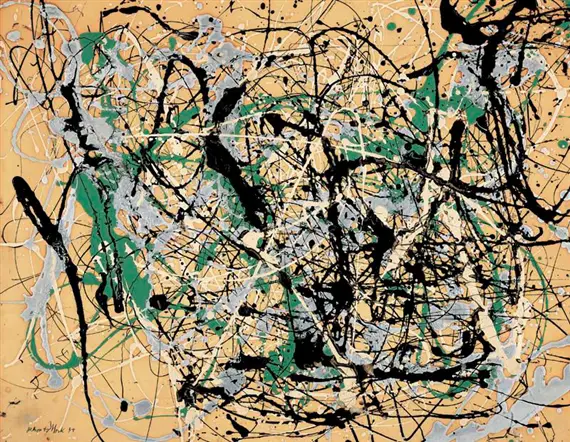 This squiggly mess of paint drippings was created in 1948 by abstract impressionist artist, Jackson Pollock. Pollock's work often sells for mind meltingly high sums of money as you saw in number 9 of this list.
In September 2015, an uber-wealthy hedge fund manager, Kenneth C. Griffin, bought this painting in a private sale.
PRICE TAG: US$200 million
3. The Card Players by Paul Cezanne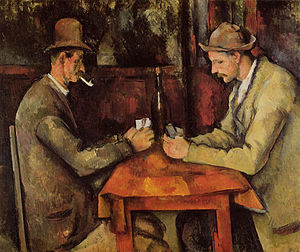 The painter's studies of peasants playing cards are considered amongst his finest works. They were painted from around 1890 to 1892 and all but this one can be seen in museum collections.
The State of Qatar purchased this painting from the late George Embiricos, a shipping tycoon, in April 2011.
PRICE TAG: Art historians estimate that it sold for US$259 million but the exact price is unknown and could've been around the US$300 million mark, which would place it much higher in this list.
2. Nafea faa ipoipo by Paul Gauguin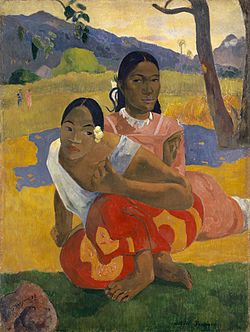 Translated from Tahitian as 'When Will You Marry', this oil painting from 1892 is a study of native Tahitians in a blend of traditional attire and colonial influences. Paul Gauguin, a French post-Impressionist artist, painted this piece on a trip to Tahiti. He was looking for a paradise where he could create 'pure primitive art'.
Sold in February 2015 to an unknown buyer, many speculate that it was purchased by the State of Qatar.
PRICE TAG: Exact price unknown but described by the New York Times as close to US$300 million.
1. Interchange by Willem de Kooning
This abstract expressionist piece has fetched the highest known price ever paid for a piece of art. Painted by Dutch American artist Willem de Kooning in 1955, the piece integrates the artist's themes and techniques of the 40s and 50s.
The painting was bought in September 2015 by Kenneth C. Griffin, the earlier mentioned American hedge fund manager through a private sale.
PRICE TAG: US$300 million
—
So there's our countdown of the most expensive pieces of art ever sold. Did this top 10 list make your eyebrows raise? If so, let us know on Twitter and Facebook.