5. Maria Rubinke – Various sculptures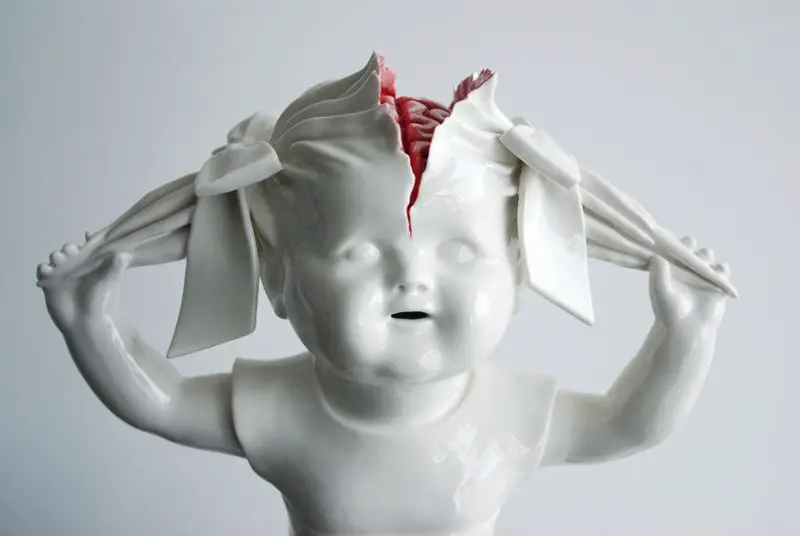 Danish artist Maria Rubinke works with porcelain figures to create truly unsettling imagery. It's all about little girls dicing their own legs, ripping their scalps in two and pulling out their own eyes.
4. Frances Bacon – Study after Velázquez's Portrait of Pope Innocent X
This is a haunting 1953 painting by Irish-born British figurative painter Frances Bacon. It depicts a warped version of the Portrait of Innocent X painted by Spanish painter Diego Valazquez in 1650. Bacon created 45 different versions of this painting as he enjoyed experimenting with colour. His distorted vision of the pope is troubling as the figure screams himself into oblivion.
3. Zdzislaw Beksinski – Various works
These are the haunting works of murdered artist Zdzislaw Beksinski. Born in Poland in 1929, he became one of Poland's most influential artists, having his most prolific periods in the 60's and 70's. It's hard to pick just one piece as his entire career was dedicated to creating unsettling images of dystopian surrealism – although he maintained his art was optimistic – however looking at these chilling images it seems obvious that living through the holocaust left an impression on his work.
On February 21st, 2005 he was found dead in his apartment with 17 stab wounds all over his body. A teenage acquaintance of his was arrested for the crime. It is thought that Beksinski refused to lend the teenage boy money before the murder took place.
2. Mark Powell – Diorama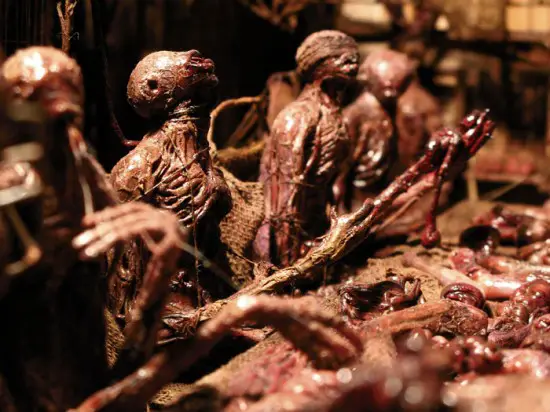 Melbourne artist Mark Powell conjures up hellish dioramas with disturbing detail. The whole thing is unsettlingly domestic as the demented creatures seem to be preparing some kind of meal. Powell uses silicone to make the gruesome scenes, as he depicts fevered visions of other-worlds.
1. Joshua Hoffine – Bedside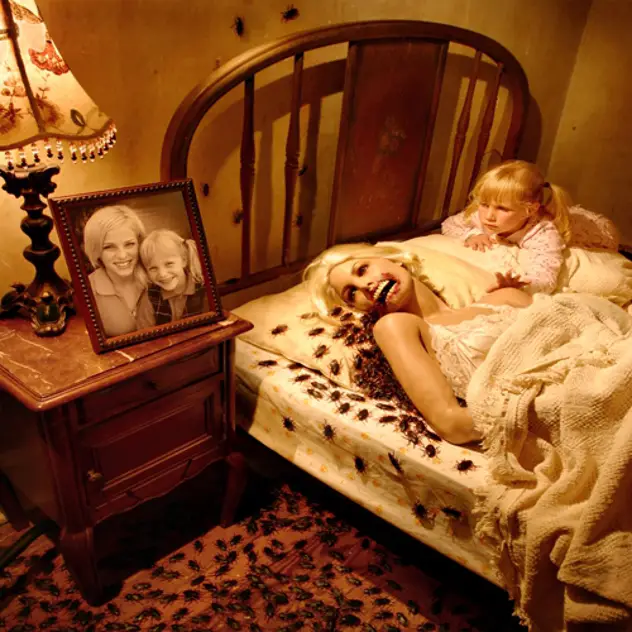 Hoffine is a horror photographer from Emporia Kansas. Interestingly he worked for Hallmark cards before going freelance. His work is very macabre and seeks to allow the viewer to feel repressed or taboo emotions. This piece titled Bedside is terrifying. The young girl's blank expression, which happens to be Hoffine's daughter, is offset by the happy family portrait sitting on the bedside table. The scene has a troubling slickness to it, no doubt a by-product of Hoffine's time at Hallmark.