5. Betty Boop / Helen Kane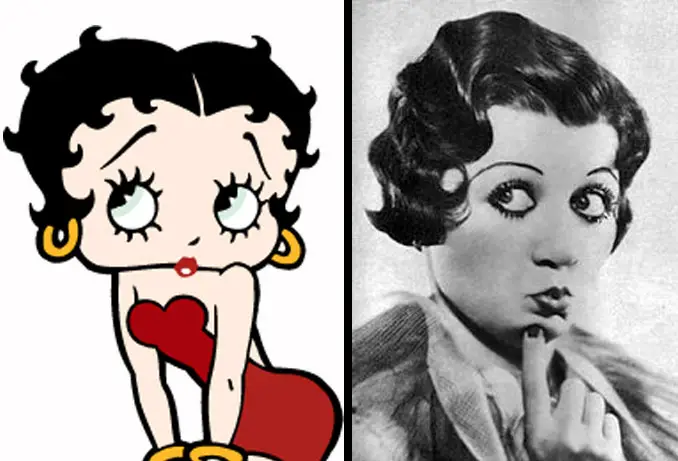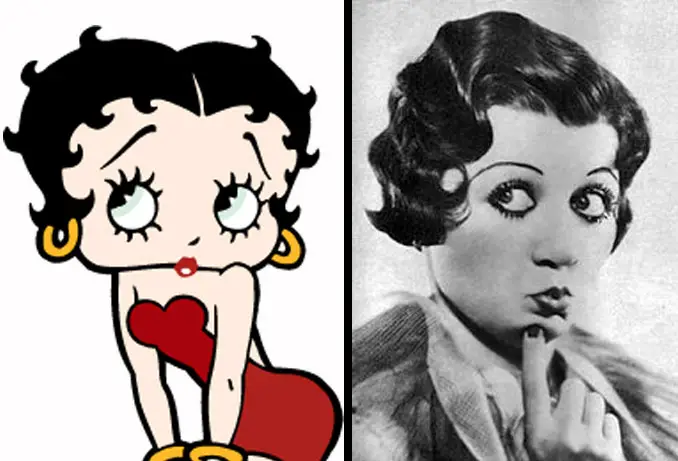 In May 1932, famous singer Helen Kane filed a $250,000 lawsuit against the creators of the cartoon character Betty Boop for wrongful appropriation. Boop, created by Max Fleischer bore a striking resemblance to Kane. Her appearance, her mannerisms and even her famous catch phrase 'Boop boop a doop'.
After more than 2 years, the judge eventually ruled against Kane claiming she could not prove that her own singing style was unique. Kane was not a fan of the Boop and even though the decision ultimately went against her, it seems fairly obvious that Fleischer used the singer as inspiration for the famous cartoon character.
4. Rocko / Woody Allen
Rocko, the loveable main character in the cartoon series Rocko's Modern Life is actually based on famous film director and comedian, Woody Allen. The T.V. series, which ran from 1993 to 1996 was about a young wallaby named Rocko who grew up in Australia and moved to O-Town, California after graduating from high school. Creator, Joe Murray first pitched the character to network executives as "a young anthropomorphic Woody Allen, who has just moved away from his home into a surrealistic adult world." Similarities between Allen's and Rocko's neurotic tendencies and insecurities are seen as the character interacts with his friends and weird characters he meets during his adventures.
3. Chernabog / Bela Lugosi
While you may not know his name, you will probably recognise Chernabog, the ominous demon character that lived atop Bald Mountain from the Disney film, Fantasia. The menacing overlord was actually inspired by the legendary horror film actor, Bela Lugosi. Lugosi, who is best known for playing the title role in the 1931 version of Dracula, spent a day at Disney Studios in 1939. He posed for animators and was also filmed for reference.
There is some speculation as to whether Lugosi's likeness actually made it into the final version of Chernabog's character seen in the film but when you are watching him, it seems likely that some of it probably did.
2. Shrek / Maurice Tillet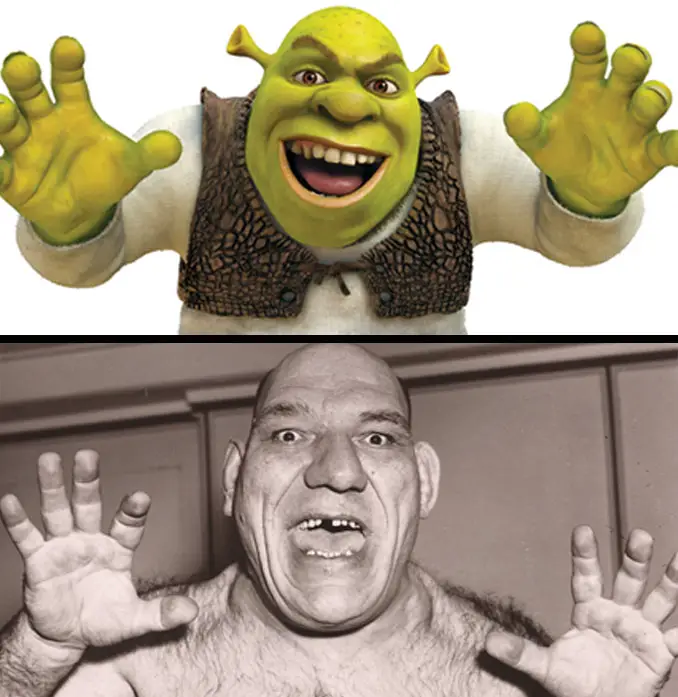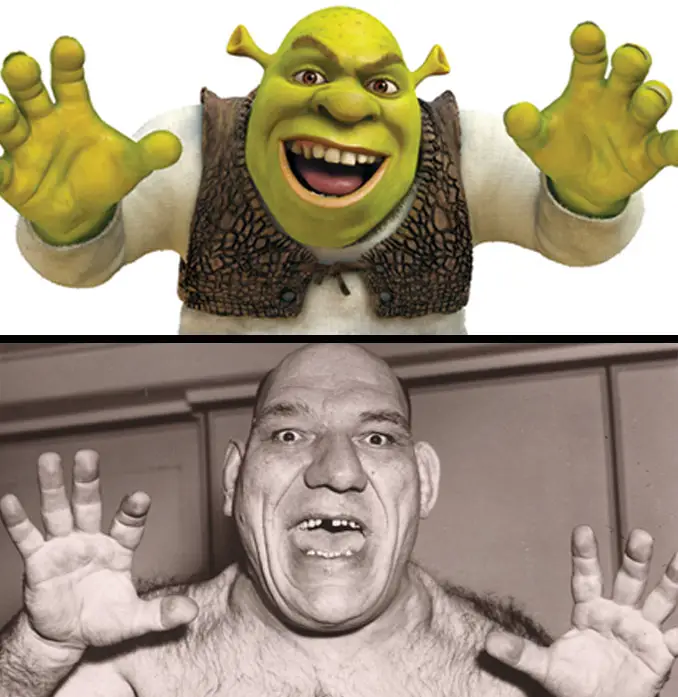 French professional wrestler Maurice Tillet has long been rumoured to have been the inspiration behind the loveable green ogre, Shrek.
Tillet was nicknamed the 'The Angel' growing up due to his blonde hair and striking good looks. At age 20 however, Tillet was diagnosed with acromegaly, a condition caused by a benign tumour on the pituitary gland which results in excessive bone growth. The condition affected Tillet's appearance dramatically, causing his hands and face to swell.
Tillet eventually became a wrestler. He was very popular in the US, winning as a main-eventer for 19 consecutive months. Tillet was the US AWA World Heavyweight Champion from May 1940 until 1942.
Dreamworks, the studio behind the hit movie has never officially addressed the rumour. However, the striking similarities between Maurice Tillet and the loveable green ogre, Shrek are undeniable.
1. Elsa Hosk / Elsa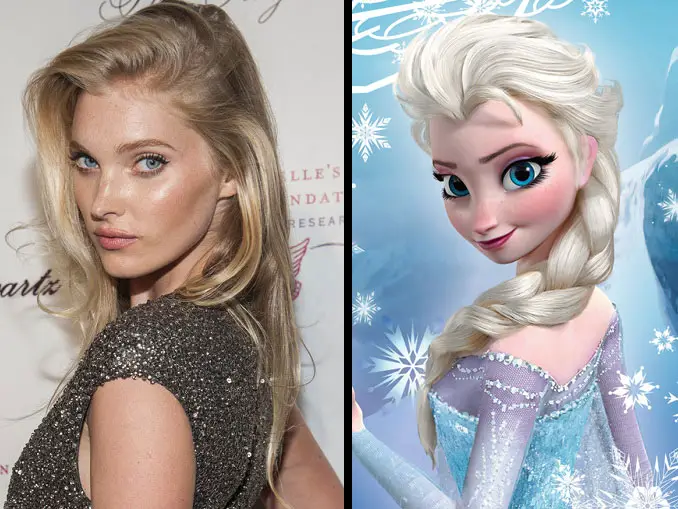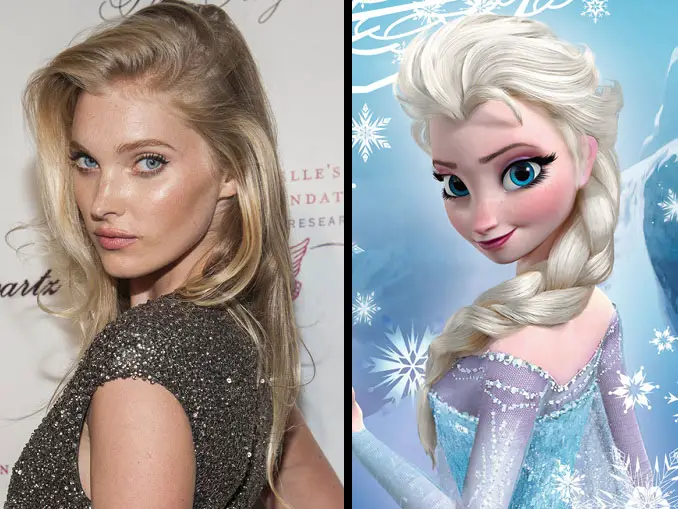 Swedish born Victoria's Secret model, Elsa Hosk looks so much like Elsa from Disney's animated film, Frozen that she is often asked if the character was based on her. Hosk, who also played professional basketball in Sweden commented on the fairy tale in an interview saying "It's not based on me, because it was written a million years ago, but you know I can let people think that. Actually, when I say my name in the US, people are like 'You're Elsa from Frozen!' And I'm like, I can't break their hearts, 'I could be!"
Frozen is based on the fairy tale The Snow Queen, written by Danish author Hans Christian Andersen in 1844 so it's not impossible that Hosk inspired the original story. Could she be the inspiration for Elsa in the Disney version? There is no official word whether or not she is but coincidentally, her middle name is also Anna.
That was 10 cartoon characters that actually exist in real life. Can you think of any other cartoons that have a real life twin? Let us know!